San Diego Padres: Aderlin Rodriguez Joins El Paso Chihuahuas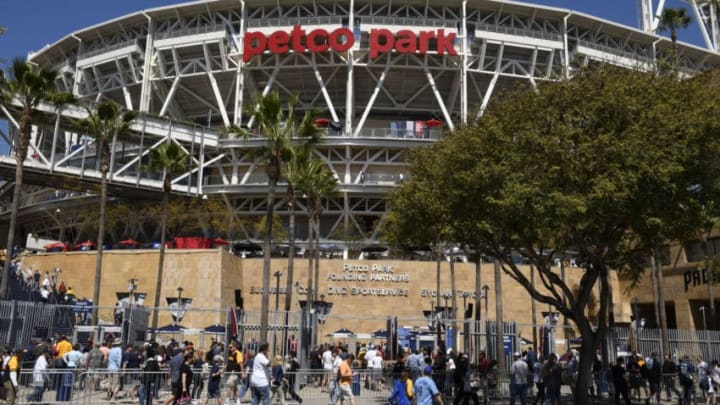 SAN DIEGO, CA - MARCH 29: San Diego Padres line up for Opening Day between the Milwaukee Brewers and the San Diego Padres at PETCO Park on March 29, 2018 in San Diego, California. (Photo by Denis Poroy/Getty Images) /
Adding to their minor league depth, the San Diego Padres have signed corner infielder Aderlin Rodriguez.
Believe it or not, we are less than two months away from pitchers and catchers reporting to spring training. Yesterday might have been the first day of winter, but baseball is right around the corner. On Friday afternoon, the San Diego Padres announced that eight players have been signed to minor league deals and received an invitation to spring training. This is just the first wave of non-roster players to receive invites to spring, with more to be announced at a later date.
Left-handed pitchers Ryan Bollinger and Dietrich Enns, RHP Tyler Higgins, IF Seth Mejias-Brean, Allen Craig, and Aderlin Rodriguez, and outfielders Jacob Scavuzzo and Alex Dickerson will all make their way to Peoria in the coming weeks.
We have already highlighted most of these signings, from Ryan Bollinger's unique professional baseball career, to the returns of Craig and Dickerson to the organization, however, one new name on the list is Aderlin Rodriguez.
Rodriguez is organizational filler for the San Diego Padres, but in hitter-friendly El Paso, Chihuahua fans are sure to have the opportunity to watch quite a performance from the 10-year minor league veteran.
Rodriguez, a 27-year-old, 6'3″ and 210-pound righty, was originally signed out of the Dominican Republic by the New York Mets in 2008, working his way through the minors until his release in 2015. After one season with the Seattle Mariners, Rodriguez has been with the Baltimore Orioles for the last three seasons, playing in High-A and Double-A ball.
Will Rodriguez ever reach the major leagues? Highly unlikely, however, for fans of minor league baseball, he is an exciting player to watch at the plate. Known for his plus-raw power since signing with the Mets, Rodriguez has been a very consistent hitter over the past three seasons in the Orioles organization, where I had the opportunity to cover him and get to know him a little bit.
https://twitter.com/BowieBaysox/status/902281390355394560
Here are his numbers since 2016.
2016: A+ Frederick Keys: .304/.359/.532/.891, 26 HR, 23 2B, 20.7% K-rate, 142 wRC+
2017: AA Bowie Baysox: .279/.341/.471/.812, 22 HR,  25 2B, 19% K-rate, 120 wRC+
2018: AA Bowie Baysox: .286/.335/.478/.813, 23 HR, 20 2B, 17.9% K-rate, 123 wRC+
More from Friars on Base
After signing with the Orioles, the team made adjustments to his swing, mainly focusing on the lower half of his body, which resulted in the type of production mentioned above and turning much of his raw power into game power. However, there are still big holes in his swing, most notably his struggles with breaking pitches and limited ability to use all parts of the field.
Rodriguez played a good bit of third base early on in his career, but has largely become a first baseman due to his poor glove and footwork in the hot corner. After bringing back MLB-veteran Allen Craig on a minor league deal, it's surprising to see San Diego also add Rodriguez into the mix. Best guess is the team likes his power potential and he can give the 34-year-old Craig time off at first base or even take over for Ty France at third base, should he earn an opportunity to suit up at the major league level.
In 983 career minor league games, Rodriguez has posted a .266 average, 155 home runs, 636 runs driven in, 201 doubles, and 996 total hits.
For reports on the rest of the minor league signings the San Diego Padres have made this offseason, you can check out our stories below.