San Diego Padres: Recently Signed Ryan Bollinger Has Seen The World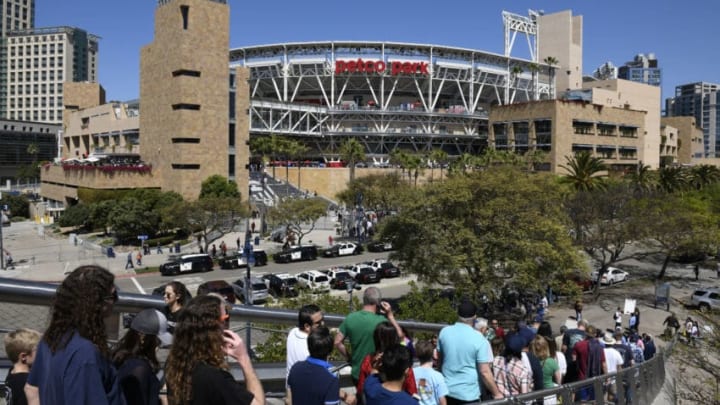 SAN DIEGO, CA - MARCH 29: San Diego Padres fans walk to Petco Park on Opening Day between the Milwaukee Brewers and the San Diego Padres at PETCO Park on March 29, 2018 in San Diego, California. (Photo by Denis Poroy/Getty Images) /
The new kid on the block is a well-traveled, interesting addition to the San Diego Padres.
The signing of Ryan Bollinger isn't breaking news and won't be featured as part of an MLB.com story, however, the 27-year-old journeyman pitcher gives new meaning to "journeyman." Bollinger's worldwide travels now take him to the San Diego Padres organization, where he will have an opportunity to compete with a deep corps of relievers expected to enter spring training.
Bollinger played his high school baseball in North Dakota. Not exactly a hot-bed of high school baseball talent, the Philadelphia Phillies discovered Bollinger deep in Minot, North Dakota and used a 47th-round draft choice on the first baseman, who bypassed his JUCO commitment to play minor league baseball.
His time with the Phillies was short-lived, as did his time as a first baseman. After going 4-23 in seven games in the Gulf Coast League, Bollinger was released and converted to a pitcher with the Windy City Thunderbolts of the Frontier League, an Independent league.
The Chicago White Sox took a flier on him, signing the 6'5″ LHP prior to the 2011 season. Bollinger spent the next three seasons pitching in rookie ball and reaching the High-A South Atlantic League in 2014. He made 29 appearances in High-A, working a 3.17 ERA and 1.30 WHIP. Across 54 innings, Bollinger issued just 13 free passes and converted all three of his save opportunities. It would be the last action Bollinger would see in affiliated ball until 2018.
Traveling the globe to find his way to New York.
Between 2014-2016, Bollinger pitched in the American Association and the Can-Am League, both independent leagues. He struggled to find success, pitching mainly for Canadian-based teams during his tour. In 64 appearances (52 starts), the lefty went 21-25 with an ERA of nearly 4.50 and a WHIP approaching 1.50. Giving up more than 10 hits/9 innings, Bollinger struggled to strike hitters out, a lacking aspect of his game at nearly every stop.
It was in Germany where Bollinger found his groove. Playing for the München-Haar Disciples, Bollinger went 10-1 with a 0.76 ERA and 0.59 WHIP. He led the Baseball-Bundesliga in wins, was one of three pitchers with a sub-2.00 ERA, and was the only pitcher to log more than 100 innings and strike out more than 100 hitters (178). The New York Yankees took notice.
His success continued after signing a minor league deal with the Yankees, making stops in Double-A Trenton and AAA Scranton-Wilkes Barre. Across both levels, Bollinger made 20 starts, winning eight games and posting a 3.87 ERA, 1.21 WHIP, and a 97/33 K/BB ratio in 111 innings. He didn't get to make an appearance, but he the Yankees did call him up for one day on July 31st.
More from Friars on Base
Before Bollinger makes his way to Padres spring training, he will finish his second season in the Australian Baseball League with the Brisbane Bandits. Winning five of his nine starts last season, he has converted to the bullpen this year, having yet to surrender a run in five innings of work. He has allowed only two hits and one walk while striking out eight to start the 2018-2019 ABL season.
Bollinger isn't going to blow his fastball past hitters, sort of hard to do when he throws in the mid-80s, however, his control and ability to place his pitches where he wants have allowed him to find success in three different continents and maintain interest from major league franchises.
Will he win a bullpen spot out of spring training, more than likely not. But Bollinger has a fantastic story that will be fun to follow as he works his way through the organization.
Bollinger was one of a number of minor league signings the San Diego Padres recently made. You can find a quick rundown of each signing here.