Padres Host Great Home Run Derby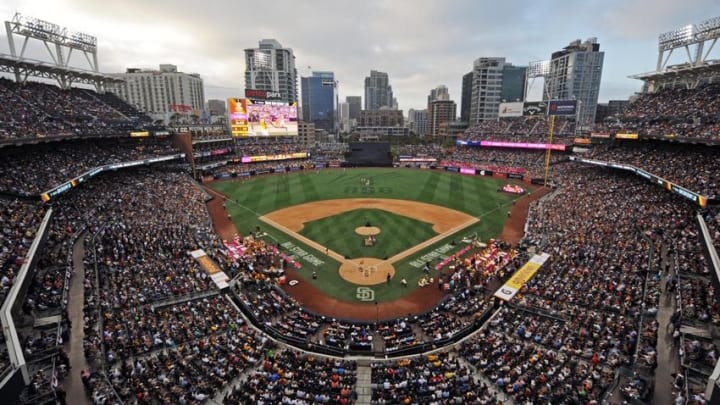 Jul 11, 2016; San Diego, CA, USA; A general view during the All Star Game home run derby at PetCo Park. Mandatory Credit: Gary A. Vasquez-USA TODAY Sports /
For a stadium that isn't supposed to be able to produce home runs, the Home Run Derby competition Monday night made saying San Diego is a pitchers park like saying Las Vegas is beachfront property.
In my estimation, only Robinson Cano gave an underwhelming performance as a wide swath of hitters didn't seem to have any problems with the famous Marine Layer and large Petco Park outfield.
More from Padres News
I have to state that my pre-Derby prediction was in fact for Giancarlo Stanton – who had never won a Derby but consistently hits the ball harder than anyone else in baseball. That is according to Statcast too – not just some old school scout "feeling". The fact that Stanton and runner-up Todd Frazier came in just for the Derby despite not making the All Star Game says something too about their drive to leave it all on the field Monday night.
"The home run is still the pinnacle of what baseball is all about. It is an objective measurement of when one individual (the hitter) defeats another (the pitcher). Basketball has it's slam dunk, hockey it's slap shot, and football a touchdown but no sport has anything that comes to the home run that has captured imaginations and inspired dreams for over a century."
The raw strength and power that it takes to hit a home run can leave you speechless as you watch the ball arc towards the blue sky, going farther and farther until landing on the roof of the Western Metal Supply Building and wondering how far it would go without the building impeding its path.
Enter the Home Run Derby.
The Derby got off to a rousing start with Dodgers rookie (booed roundly) Corey Seager set things off with 14 home runs of his own to get the crowd into it. Then Mark Trumbo took that number and after a slow start – came back from his timeout and could not miss! It was an impressive display of bat control and power and he seemed to be the crowd favorite at that moment.
Did they not know who was next?
Stanton has a new hitting coach this year in Miami – Barry Bonds – who despite all the controversy surrounding him no matter who you look at it is currently the home run champion of Major League Baseball. So he knows what he is doing, and Stanton has had no problems hitting home runs before his new mentor came on the scene. Stanton did not disappoint.
He hit one a Derby leading 497 ft – eventually he would do that twice – en route to kicking off his round with 24. He hit the farthest and hardest hit ball Statcast has ever tracked. Impressive.
Robinson Cano had no chance anyway of following that, and it showed that his spirit had been crushed as he only mustered 7 home runs.
Wil Myers put up a good home crowd showing with 10 home runs, but Reds rookie Adam Duvall quickly overtook him to eliminate Myers in the first round. I think that going first is a distinct disadvantage (unless you crush 24) and perhaps Myers would've been able to go farther had he known his goal before hitting? Oh well, it was by no means an embarrassing performance.
Stanton "snuck" by the second round with just 17 to get past Trumbo and set the stage for the finals with Frazier. Last year's champion versus this year's strongest contender. I thought it was interesting that both were wild cards.
Next: Does AJ Preller Have a Plan? Part 1
In the final round, with 2:25 left Stanton only had 6 home runs so he took his timeout. From there he went on a fourteen home run binge to set the bar at 20. Frazier gave it a great round as he was in the HR Derby finals for the third straight year but seemed to just run out of gas, hitting only 3 homers in the last minute and a half and Stanton won.
As a fan this was a truly amazing experience. The Futures Game was great Sunday, the Celebrity Softball Game was surprisingly entertaining, but this topped it.
As the night went on it did seem that the balls weren't traveling as far as they were early on, as Padres hitters can attest. That said the night was perfect as Petco Park continues to be the center of the baseball universe for one last night with tonight's All Star Game. Can't wait.