San Diego Padres Ride Tyson Ross to Victory in DC Finale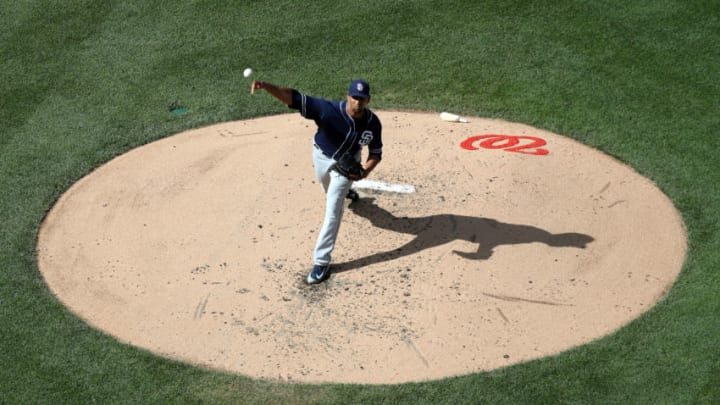 WASHINGTON, DC - MAY 23: Starting pitcher Tyson Ross #38 of the San Diego Padres throws to a Washington Nationals batter in the fourth inning at Nationals Park on May 23, 2018 in Washington, DC. (Photo by Rob Carr/Getty Images) /
In what's becoming quite the theme for this team, the San Diego Padres didn't score many runs yesterday but were able to take the final game of a three-game set in the nation's capital.
After losing the first two games of this series to the Nationals, it was beginning to feel like any of the pixie dust that was left over from the big series win in Pittsburgh last weekend was going to be all wiped away by the time the San Diego Padres hit their off-day on Thursday.
Luckily, that wasn't the case and the Padres were able to leave DC with a smile on their collective faces as they head home to take on the Los Angeles Dodgers this weekend.
Tyson Ross was simply outstanding yesterday. He really had his slider working for him and it showed, as he was able to rack up nine punchouts by the end of his 6.2-inning day.
Craig Stammen and Brad Hand both did their jobs and heading into Memorial Day weekend, the San Diego Padres are only five-and-a-half games out of first place in the National League West.
More from Friars on Base
They may not be competing for a divisional crown, but this team is starting to play consistently competitive baseball.
There will be stinkers, that's a given. But there's a funky aura around this team right now, and it's getting more fun to watch each game.
Ross has been a godsend for the Friars
Through 60.1 innings pitched for the San Diego Padres this season, Tyson Ross has himself a sparkling 9.55 strikeouts per nine innings, a respectable 3.43 walks per nine, and 1.0 wins above replacement, as per Fangraphs.
Whether the 31-year-old remains a part of the picture in San Diego much longer is unknown.
It's beginning to look like AJ Preller has some more-valuable-by-the-day trade chips at his disposal. That's always a good thing for an organization that's rebuilding.
But if the Padres find themselves five-and-a-half games out on July 30,  how will Preller & Co. Remodeling Specialists approach the situation then?
It's a curious thought. All signs point to a young Friars team eventually falling victim to inexperience and being short on seasoned talent.
Next: This is Just the First Wave
But if the D-Backs keep slipping and sliding, the Dodgers continue to play .500 baseball (6-4 in their last ten), and the Rockies' rotation can't stay consistent enough to stretch things out a bit, clawing their way to .500 and taking another step from there could keep things interesting through the summer, for sure.