Padres have found their leadoff hitter in Trent Grisham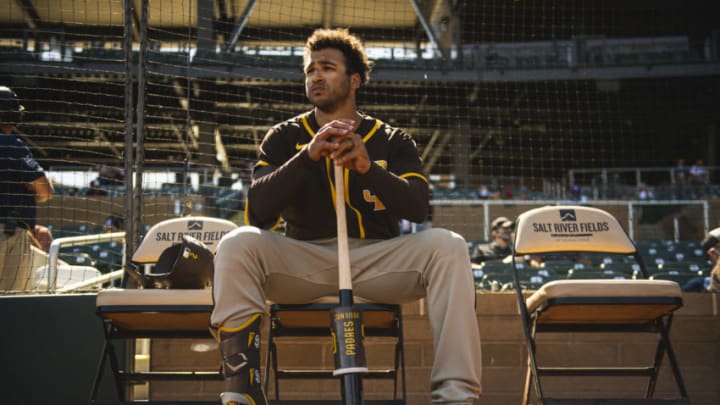 (Photo by Matt Thomas/San Diego Padres/Getty Images) /
It's been six years since the Milwaukee Brewers selected Trent Grisham in the first round. Drafted straight out of high school, it took him some time, but the now-Padres outfielder is starting to hit his stride.
Padres: Trent Grisham is living up to the hype
Before Cactus League action got underway, I wrote about how some of the metrics and peripherals surrounding Grisham from 2020 indicated he could be poised for a breakout showing this time around. Early on this spring, he's looking the part, working counts and getting on base almost at will.
More from Friars on Base
""That's always my goal, swing at my pitches that I know I'm going to have success on," he told the San Diego Union-Tribune recently. "That's what's going to make me successful, that's what's going to help me be a part of this team so I'm going to keep trying to do that. … There's nothing we can do to control what's called a ball, what's called a strike. We can only discipline ourselves on what we know the zone or what we think we know the zone is and go from there and play.""
For a guy who has just over 100 big league games to his credit and not even 500 career plate appearances, Grisham controls the zone well – and clearly goes into every at-bat knowing what his plan of attack is.
In a half-dozen spring games, Grisham is batting .273/.500/.727 with five walks to six strikeouts. He's demonstrating all the skills you want to see in a long-term leadoff hitter – especially when you have a heart of the order that features Fernando Tatis Jr., Manny Machado, Wil Myers and Eric Hosmer.
Grisham gets on base – and when pitchers make mistakes, he punishes them brutally. When he gets on base, he's capable of wreaking havoc with his baserunning and speed. So while he may not get the attention or garner the headlines this team's stars do (at least not yet), Trent Grisham looks like he's poised to be the ultimate table-setter in San Diego this summer.