Scouting Report: San Diego Padres at New York Mets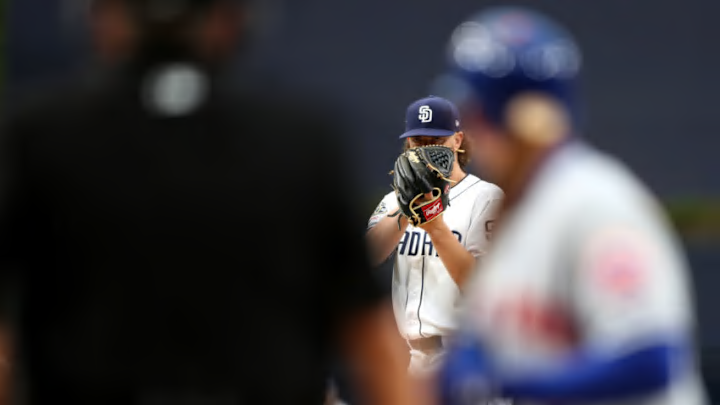 SAN DIEGO, CALIFORNIA - MAY 06: Jason deGrom #48 of the New York Mets pitches during the first inning of a game against the San Diego Padres at PETCO Park on May 06, 2019 in San Diego, California. (Photo by Sean M. Haffey/Getty Images) /
SAN DIEGO, CALIFORNIA – MAY 06: Jason deGrom #48 of the New York Mets pitches during the first inning of a game against the San Diego Padres at PETCO Park on May 06, 2019 in San Diego, California. (Photo by Sean M. Haffey/Getty Images) /
Coming off their third straight series loss, the San Diego Padres hope to recover against the New York Mets as they face off for the second time this season. The Padres Mets series begins on Tuesday, July 23.
Sitting at 47-52, the San Diego Padres are 5.0 games out of a National League wild card spot with their backs against the wall. They hope to right the ship when they play the New York Mets on Tuesday, who are 45-54.
The Friars were able to avoid a sweep at the hands (claws?) of the Chicago Cubs, winning Game 3 in a decisive fashion 5-1.
San Diego's defense really struggled over the weekend, as did its offense in clutch and high-leverage situations. Hopefully, the Padres will carry their win into the series against the struggling Mets, who are coming off a series loss to the suddenly-surging San Francisco Giants.
Nevertheless, the Mets have a young gun on their team who can carry the load — rookie sensation Pete Alonso, who's in the lead for the NL rookie of the year award just over halfway through the season. Alonso is batting .265/.360/.610 with 75 RBIs and a mammoth 33 home runs, ranking third in the MLB.
The rookie has gone cold to start the second half of the season though. Since the All-Star break, Alonso is hitting .118/.244/.382 with only four hits in his last nine games. Considering the hot start he had, it'll be hard to imagine Alonso staying down for long, as he's shown tremendous talent in his first career season.
For the Friars, Chris Paddack will likely take up most of the headlines considering his former encounter with Alonso. Paddack is slated to open the series for the Padres against the Mets.
Both rookies have had spectacular MLB debuts and are near the top of the MLB leaderboards in their respective positions. Paddack earned the win in their last matchup in May, and it'll be interesting to see how both players respond to the hype this time around.
On that note, let's dive into the expected pitching battles during this three-game series.
Game 1
Chris Paddack and Jason Vargas will headline the series opener on Tuesday evening. Vargas is 4-4 on the season, owning a 4.25 ERA and 1.282 WHIP. He didn't pitch against the Padres in the May series.
The 13-year vet is coming off a decent outing against the Minnesota Twins back on July 17. Vargas allowed three runs off five hits through six innings, striking out four batters and walking one.
That was a bounce back game for him, though, as he allowed more runs than hits in his prior outing against the Miami Marlins. Vargas finished that game by surrendering six runs off five hits, with two homers allowed and only two strikeouts. The Padres will hope to force Vargas into a similar situation.
Paddack is also coming off a game against the Marlins, but his outing couldn't have been any different.
The rookie flirted with a no-hitter to go seven innings without allowing a run. Unfortunately, the Padres bid for their first franchise no-hitter ended when Paddack gave up a home run to Starlin Castro in the eighth; he proceeded to force a line-out and a strikeout before being replaced by Craig Stammen. Paddack is now 6-4 with a 2.70 ERA and 0.867 WHIP on the year.
That was Paddack's second-best start this season. His first? Another 7.2 scoreless outing against the Mets in May, when he allowed only four hits, one walk, and struck out a career-high 11 batters. He'll be chomping at the bit for another crack at fellow rookie phenom Pete Alonso, and hopefully he can replicate his results too.
Game 2
Noah Syndergaard will take the mound for New York in Game 2, while Dinelson Lamet will get his fourth start of the season.
The rumored trade target of the San Diego Padres, Syndergaard is having a below-average year — according to his standards. The former All-Star and Cy Young winner, Thor is 7-4 this season with a 4.36 ERA (3.67 FIP) and 1.228 WHIP. He's already had a shutout and complete game this season, though he had double the complete games in 2018.
Syndergaard is coming off two very strong seven-inning starts. His last featured one run allowed off six hits with eight strikeouts and a walk. Before that, two runs off five hits with nine strikeouts and no walks. The guy is incredible.
However, Thor was beaten down by the Friars back in May. Despite earning the win, he surrendered five runs in six innings; one of those wasn't earned, but he still struggled on the mound with only five strikeouts to boot.
The Padres will look to make him uncomfortable once again, this time on his own turf. Syndergaard has given up 4.45 earned runs on average at home, slightly worse than his 4.26 line on the road.
In the other dugout, Lamet will hope to recover from his poor start against the Marlins last week. He allowed three runs off six hits and was pulled after four innings, giving up a home run and striking out five batters and walking two.
Lamet is still readjusting to the starting rotation, though. While he's surrendered 10 runs in 14 innings pitched, he's only had three starts this season after recovering from Tommy John surgery. He's 7-10 with a 4.63 ERA in his career, and he's flashed potential since his 2017 debut. It'll be interesting to see how he progresses throughout the season and how he'll fit into this rotation moving forward — if at all.
More from Friars on Base
Game 3
The rubber match will feature Jacob deGrom vs. Eric Lauer. A three-time All-Star, deGrom is building off his career year from 2018 when he led the MLB with a 1.70 ERA, 1.99 FIP, and 0.4 home runs per nine innings.
While 2019 isn't on par with 2018, deGrom is still enjoying an All-Star season. Despite a 5-7 record, he owns a 3.02 ERA and 1.107 WHIP with 154 strikeouts on the year, which ranks second in the NL only behind Max Scherzer. He's also ranked seventh in the MLB for strikeouts per nine innings with 11.36.
The six-year vet is fresh off a scoreless outing in San Francisco, where he held the Giants to three hits through seven innings — he also struck out an impressive 10 batters while walking three.
Eric Lauer will need to be on his game to compete with deGrom. He got off to a good start against the Cubs on Friday, registering four strikeouts in the first two innings.
Things crumbled once he entered the third inning, however. Lauer was hit in the back by Albert Almora Jr. and tried to shake it off; instead, he gave up a single to Javier Baez and followed up by walking Kris Bryant. Anthony Rizzo topped things off with a grand slam to put the Cubs up 4-3, and the Padres would stay behind for the rest of the game.
Perhaps Lauer was bothered by the hit to his back — I certainly would be. Hopefully he's recovered though and can orchestrate a nice outing. He's 5-7 on the season with a 4.31 ERA, 1.333 WHIP, and 79 strikeouts, and he's been pretty streaky so far. He's gone as deep as seven innings and been pulled in as little as 2.2 We'll see how he responds to the tough break he had on Friday.
The Padres at Mets series begins on Tuesday, July 23 at 4:10 PM PT/7:10 PM ET.
For complete coverage of the San Diego Padres 2019 season, be sure to visit Friars on Base all season long.