Should San Diego Padres have signed Craig Kimbrel to bolster bullpen?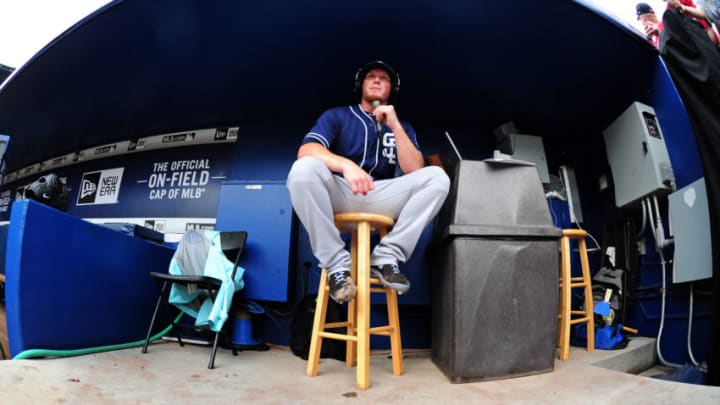 ATLANTA, GA - JUNE 11: Craig Kimbrel #46 of the San Diego Padres is interviewed after the game against the Atlanta Braves at Turner Field on June 11, 2015 in Atlanta, Georgia. (Photo by Scott Cunningham/Getty Images) /
Former San Diego Padres closer Craig Kimbrel has signed with Chicago, but could he have helped repair a struggling San Diego bullpen instead?
Craig Kimbrel finally found an MLB team on Wednesday, as the veteran reliever agreed to terms with the Chicago Cubs.
But San Diego Padres fans remember Kimbrel as their closer during the 2015 season—and given how much trouble their current relievers are in, it's hard not to ask if the Friars should have looked at re-signing him.
First things first: Kimbrel wanted a lot of money this offseason, and that's why he sat out the first few months of the 2019 MLB season. It's entirely possible that he'd have been too pricey for San Diego (his deal with the Cubs is reportedly for three years and $43 million).
And the Padres have a very good closer at the moment in Kirby Yates, so Kimbrel wouldn't have filled his old role in the San Diego bullpen.
More from Padres News
Yet could you imagine if Kimbrel was signed to fill the gaping hole the Friars have in middle relief? The day his Cubs deal was announced, San Diego gave up five runs in the seventh and eighth innings. It's always a guessing game as to whether or not their bullpen can get a lead to Yates in the first place.
Craig Kimbrel spent just one season at PETCO Park, in 2015, but it was a pretty good one. He had a 2.58 ERA in 61 appearances, with 39 saves. Kimbrel only allowed 19 runs in 59.1 innings pitched.
Last season with the Boston Red Sox, he was an All-Star with a 2.74 ERA and 42 saves. Kimbrel gave up 19 runs and walked 31, while striking out 96 batters over 62.1 innings.
He clearly has something left in the tank—and a solid, experienced pitcher is exactly what the San Diego Padres need right now to keep the bullpen from costing the team any more games. Especially as they're fighting for a playoff spot, each relief appearance counts, and they're even more critical in the postseason.
Craig Kimbrel's contract with the Chicago Cubs is contingent on Kimbrel passing his physical, but Padres fans will certainly be curious to watch his 2019 debut and see how he does—as the team keeps looking for a solution to its bullpen problems.
For more analysis, breakdowns and opinions about the San Diego Padres, follow the Analysis category at Friars on Base.