San Diego Padres: Franmil Reyes Is Growing On Me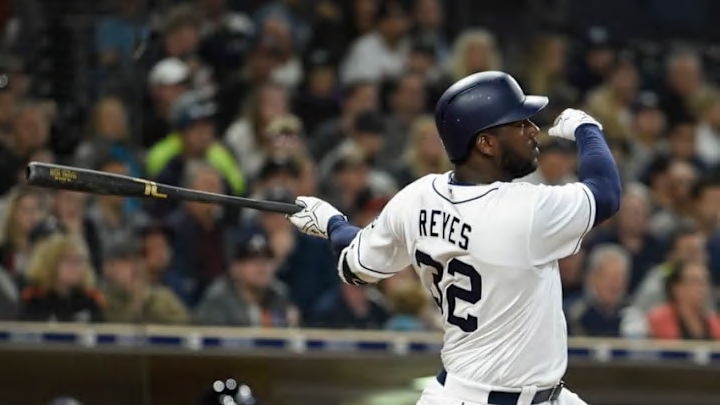 SAN DIEGO, CA - JUNE 4: Franmil Reyes #32 of the San Diego Padres hits a solo home run during the sixth inning of a baseball game against the Atlanta Braves at PETCO Park on June 4, 2018 in San Diego, California. (Photo by Denis Poroy/Getty Images) /
San Diego Padres outfielder Franmil Reyes has shown a big improvement through the month of August.
When the San Diego Padres initially called up Franmil Reyes, I didn't like it. The team was already leading the league in strikeouts and their outfield play was already costing them game after game. Bringing up a player like Reyes was only going to make those problems worse, way too early on in the season.
Every time he lumbered around right field, I grabbed my phone and aimlessly wandered through social media to distract myself from watching the game. When he came up to bat, I used the opportunity to grab a snack, a fresh beer, or take a bathroom break. I had zero interest in watching Franmil Reyes play baseball. I had zero interest in even giving him a chance.
There's still a valid opinion that Reyes would have a much better career if he was on an American League team where he could DH and make American League East ballparks look like little league fields. With the Padres, he's going to have to fight for regular playing time. Without any potential free agent signings, the team will likely enter 2019 spring training with Reyes, Hunter Renfroe, Manuel Margot, Travis Jankowski, and Franchy Cordero all competing for time (that is if Wil Myers sticks at third base).
Reyes is showing a big improvement at the plate, especially in his ability to avoid the strikeout. He has at least 40 at-bats in May, June, and August this season, showing progression each month. His strikeout rate has dropped from 40.4 and 40.8% to 26.3%. While cutting his strikeout rate almost in half, Reyes has posted his highest monthly walk-rate of the year, currently sitting at 7%. Nothing spectacular, but a marked improvement over his 2% rate in June.
Just look at his numbers from his past seven games. Reyes is hitting .313 with a .421 on-base percentage! He has reached base via walk or hit in each of his last five game, breaking a streak of 10-straight appearances where he failed to reach base.
More from Friars on Base
There are still a few things that Reyes struggles with, like hitting right-handed pitching. While he mashes .325 against LHP, Reyes is barely above the Mendoza Line against RHP (.205). There's also been the Eric Hosmer effect hitting Reyes, hitting a ground ball in 50% of his August at-bats.
Reyes hits the ball harder than most, ranking 29th in the league in average exit velocity, among hitters with at least 100 batted balls. (91.6 mph). He is also one of the best in baseball at barrelling up the baseball (13%). Once he can settle into the lineup and get more regular playing time, the Padres have themselves a dangerous player, one that the rest of the league passed up on in last year's Rule-5 draft.
Am I 100% sold on Franmil Reyes and his ability to stick as an outfielder for the San Diego Padres? No, however, I've come around on him and can genuinely say I enjoy watching the man play baseball.
Reyes hit his 10th home run last night, giving him double-digit dingers in `157 rookie, irregular at-bats. Now if only the Padres could put runners on base in front of Reyes.