San Diego Padres: Twitter Reacts To Franmil Reyes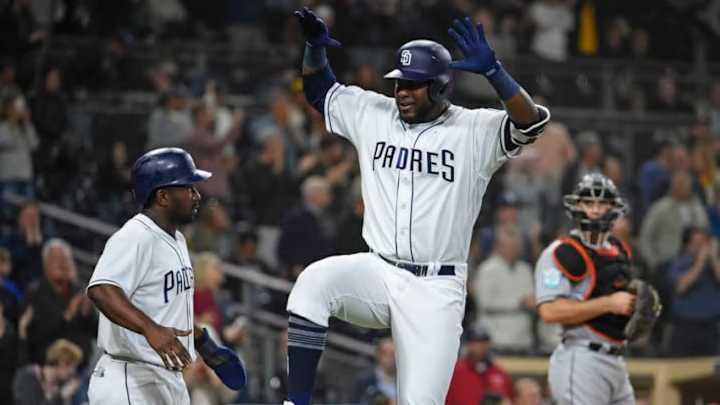 SAN DIEGO, CA - MAY 29: Franmil Reyes #32 of the San Diego Padres celebrates with Jose Pirela #2 as J.T. Realmuto #11 of the Miami Marlins looks on after hitting a two-run home run during the sixth inning of a baseball game at PETCO Park on May 29, 2018 in San Diego, California. (Photo by Denis Poroy/Getty Images) /
The San Diego Padres have an exciting and frustrating young player in Franmil Reyes. We asked our followers on Twitter, what do you think about Reyes and his future with this team?
The excitement was real when news broke that Franmil Reyes was joining the active roster of the San Diego Padres. When the Padres selected his contract on May 14th, Reyes led all of baseball (MLB and MiLB) with 14 home runs in 130 at-bats. He had a .364 average, a .442 on-base percentage, and was up to 21 walks. There really wasn't much more for him to prove in the minors.
Since being called up, "The Franimal" is 7-39 at the plate (.189 batting average) with three home runs and four singles. He has posted a .283 wOBA and an 83 wRC+, both numbers well below average. If you are a believer in WAR, Reyes has been exactly average through his first 12 games, recording a 0.0 WAR.
The key stat there, 12 games.
No matter what side of the fence you are on, Reyes has provided a few exciting moments in his brief time in San Diego. Take Tuesday night for an example.
Let's break down this unbelievable feat of strength. Reyes sends the Dan Straily pitch 442 feet at 109.8 mph with a 26-degree launch angle, according to Baseball Savant.
The best part of the home run, the celebration. This team needs some swagger and personality. Franmil Reyes brings both of those things to the table. However, how much offensive production can he bring to the big league squad?
What do the San Diego Padres have in Franmil Reyes?
We posed the question to the Padres' Twitter community, what are your thoughts on Franmil Reyes? While the 6'5″, 240-pound slugger can ignite a stadium with mesmerizing home runs and rocket line-drive shots, he has struck out in nearly 40% of his at-bats.
A common response to the play of Reyes has been, "this is why the National League needs the DH." He's slow and hasn't looked comfortable in right field, where he has played every game in.
As for the bat, Reyes is hitting .189 with a .231 on-base percentage. His BABIP is .211. Is he capable of turning things around like Franchy Cordero is beginning to do? I don't think so. The swing is big and he appears very stiff at times, resulting in a swinging strike rate of nearly 14%. Reyes doesn't qualify, however, if he had enough at-bats, that rate would rank as one of the highest in MLB, right behind Chris Davis of the Baltimore Orioles.
This may be the most accurate take. While it's fun to get excited about Reyes and his moon shots, big personality, and lethal power, when Wil Myers returns to the lineup, there won't be any room for Reyes.
How do you feel about Reyes, Padres' fans? Does he have a future on the major league roster? Is he a AAAA player? Do you see anything in his game that points to him figuring this whole thing out? Let us know, Friar fans!