San Diego Padres: Joey Lucchesi Didn't Have His Best Stuff Last Night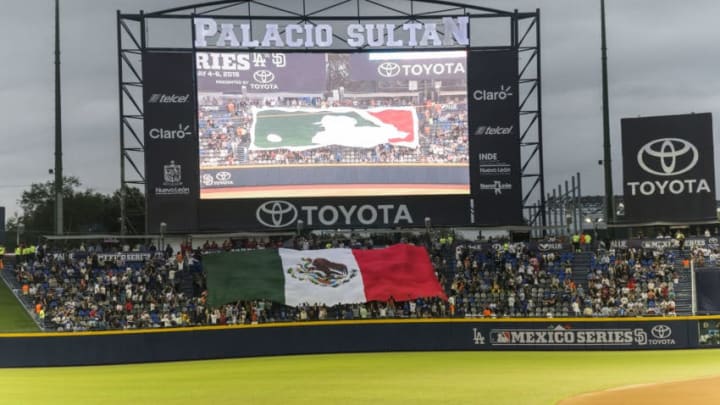 MONTERREY, MEXICO - MAY 04: Fans display the Mexican flag prior the MLB game between the San Diego Padres and the Los Angeles Dodgers at Estadio de Beisbol Monterrey on May 4, 2018 in Monterrey, Mexico. The Dodgers defeated Padres 4-0. (Photo by Azael Rodriguez/Getty Images) /
The San Diego Padres were hoping for their young lefty to match bullets with the Dodgers' rookie hurler, Walker Buehler, last night. Unfortunately, things only worked out that way for one of the two teams in Monterrey last night.
The night began as an intriguing matchup between two of the most highly-touted rookie pitchers in the National League. The San Diego Padres' left-hander, Joey Lucchesi, was squaring off against the Dodgers' young flamethrower, Walker Buehler.
Buehler and the Dodgers' bullpen walked away from this all-freshmen pitcher's duel with a combined no-hitter in the opening game of a three-game set in Monterrey, Mexico.
Lucchesi, 24, clearly didn't have his best stuff last night, which is a problem we've rarely seen the young lefty have during his first seven starts of the season for the Friars.
More from Friars on Base
Lucchesi was a bit off from the get-go for the Padres
He began the night by walking Chris Taylor. That foreshadowed a command-plagued first inning for Lucchesi.
He allowed a single to Enrique Hernandez in the next at-bat, and Jose Pirela lost a Matt Kemp pop-up into shallow left-field that scored Taylor and moved Hernandez to third.
He got Yasmani Grandal to ground out into a 5-5-3 double play to alleviate some of the pressure, but then walked Austin Barnes and Kyle Farmer in the next two at-bats.
Alex Verdugo grounded out to end the inning and the damage was limited to just a run but Lucchesi's night got off to an unexpectedly rough start, to say the least.
Things got worse before they got better for Lucchesi
Things didn't get any easier in the second inning. After striking out Tim Locastro and inducing a Buehler groundout, Lucchesi gave up back-to-back solo jacks to Taylor and Hernandez to dig himself into a 3-0 hole.
Joey Lucchesi worked a perfect third inning, striking out Grandal and Farmer, then worked around a Locastro double with one out in the fourth to escape harm once again.
After another perfect inning in the fifth, Andy Green made the call to bring in Adam Cimber in the sixth. Cimber apparently didn't have his best stuff tonight either.
Next: Pitching Matchups in Mexico
The Dodgers added another run to the Friars' deficit after Chase Utley tripled to lead off the inning and Verdugo singled him home two batters later to give LA a 4-0 lead that they held onto for the no-hitter and victory.