San Diego Padres Must Now Turn to Triple-A Prospect, Eric Lauer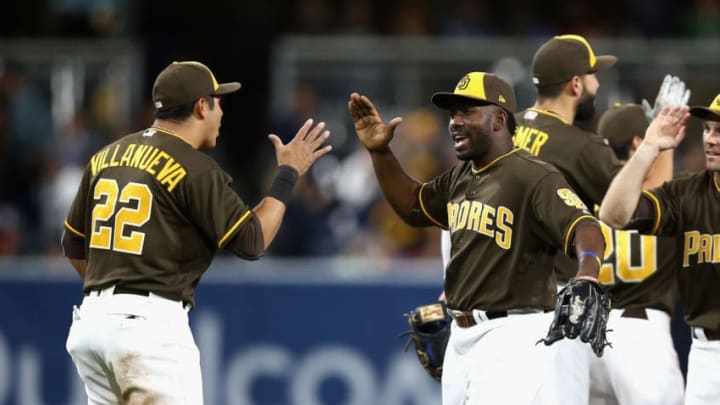 SAN DIEGO, CA - APRIL 13: Christian Villanueva /
After injuries and underperformance have changed the San Diego Padres' plans for their rotation, it's about time another prospect gets a shot.
The San Diego Padres' starting pitchers (barring Joey Lucchesi) have been average, to say the least.
Andy Green will have to make pitching changes before it is too late. Waiting in the wings is a young crafty lefty, Eric Lauer. Green must hand him the keys and enjoy the ride.
San Diego Padres' starting hurlers have struggled for consistency
The Padres' starting pitchers have consistently missed the mark. They seem to be playing catch-up baseball time and again.
Bryan Mitchell, Luis Perdomo, and even Clayton Richard have been very average. Yes, they have shown flashes of brilliance but have been very unreliable on the mound.
More from Friars on Base
Yesterday was another example of Bryan Mitchell yielding three runs in the first inning.
Mitchell has walked 14 and yielded 15 hits in 13 innings pitched. His pitches per innings (P/IP) is a ridiculous 18.2.
If your starting pitcher can only last for three innings, that's a recipe for losses.
Mitchell should slide into the role of a relief pitcher and look to build confidence from pitching an inning or two.
Looking at some numbers for Luis Perdomo and Bryan Mitchell
Luis Perdomo has also been all over the place. He has conceded 16 hits with a WHIP of 2.09.
Perdomo has a 4.91 ERA over 11 innings with 21.1 P/IP.  Bryan Mitchell has a 5.27 ERA in 13.2 innings with 18.2 P/IP
These are not the numbers that a manager can draw confidence from. Both Bryan and Luis are definitely on a short leash. Another poor outing could spell trouble for both pitchers.
To add to Padres' pitching woes, Dinelson Lamet will undergo Tommy John surgery this week and will not return until early next year, at the earliest.
Eric Lauer is ready to step in for San Diego Padres
Drafted twenty-fifth in the first-round of 2016 MLB Draft, Eric Lauer has made enough progress and thrown enough pitches to be playing the role of a starting pitcher for San Diego Padres.
Eric Lauer has been brilliant in the limited opportunities that he saw in Spring Training. He has had two good outings playing for Triple-A El Paso and is 1-1 with a 4.50 ERA in 12 innings pitched.
Lauer's last start for El Paso was on April 10 and Perdomo is expected to start against the Dodgers on April 16. So that leaves Lauer with six days of rest.
Next: Ross Shines, Offense Wakes Up in Win Over SFG
Eric Lauer vs. the Los Angeles Dodgers. Are you with me!