San Diego Padres: Luis Urias, His Ridiculous Stats, & His ETA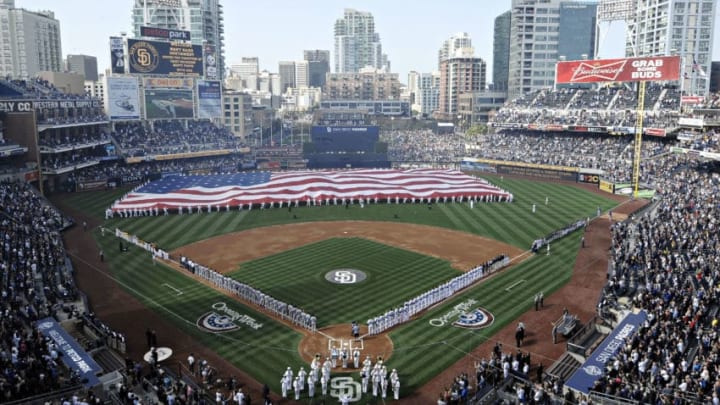 SAN DIEGO, CA - APRIL 5 : U.S. Navy sailors roll out a huge American flag before the Padres home opener between the Los Angeles Dodgers and the San Diego Padres at Petco Park on April 5, 2012 in San Diego, California. (Photo by Denis Poroy/Getty Images) /
The San Diego Padres weren't sure what they had in Luis Urias when they signed him. After a few seasons in their farm system, they have a much clearer idea of what he brings to the table. Now, they can't help dreaming about what he'll become.
The San Diego Padres signed Luis Urias as a 16-year-old in 2013. A native of Mexico, he made his first appearance as a member of the Friars' organization in 2014 in the Dominican Summer League affiliate, also known as the Padres.
After just two games in DR, Urias was then moved to the Arizona Fall League Padres. It was here where the Friars brain trust was able to get an accurate gauge on what they had in this young player.
And an accurate gauge is exactly what they got, albeit in a small sample size. In 155 at-bats in the AFL, Urias slashed .310/.393./355 with 18 RBI. This was likely a pleasant surprise for the Padres.
They wanted to see more of this type of production, but more consistently and at a higher level. Once again, Urias delivered. In just 31 at-bats with Short-Season A Tri-City, Urias hit .355 with an unbelievable .874 OPS. And that OPS was built without Urias hitting a single home run.
San Diego Padres give Luis Urias a bigger challenge
To finish out the 2015 MiLB season, Luis Urias racked up 193 at-bats with Full-Season A Fort Wayne. Here he saw a slight dip in his productivity but that must have been expected for an 18-year-old who moved through three levels of minor-league baseball in just over one full season.
It was in 2016 when San Diego Padres prospect Luis Urias opened everyone's eyes as to what this young man's developmental ceiling was. In a full season with Advanced-A Lake Elsinore (466 at-bats), Urias slashed .330/.397/.440 with five home runs and 52 RBI out of the leadoff spot.
Finishing out the MiLB season in 2016, Urias played a few games with Triple-A El Paso and thrived there as well. In nine at-bats he collected three RBI, hit one home run, and only slashed .444/.667/.778.
Again, this was a small sample to judge a player on but to be thrown from the frying pan into the fire in that manner and react in the manner that he did must have shown the Padres front office the type of personality and grit Urias has.
San Diego Padres can't move Urias up quick enough
Last year at Double-A San Antonio, Urias continued to impress. In 442 at-bats the 19/20-year-old hit .296 with an on-base percentage of .398 and an OPS of .778. He once again showed some power output, hitting three home runs.
Although Luis Urias is by no means a power threat, he is an on-base machine. Looking at his MiLB numbers, I realized something very impressive and seemingly rare about Urias. Over his minor league career, he has more bases-on-balls than RBI. He's amassed over 1,300 at-bats in that time.
That got me thinking; how does that rare statistic stand when compared to recent MLB players? So I started looking around. The first player that came to mind was Rickey Henderson, who almost doubles his RBI output in walks, 2,190 BB to 1,115 RBI.
Comparing Urias' numbers to other second-basemen
More from Friars on Base
Next on the list was actually a second baseman, and that man is Joe Morgan. Morgan had similarly impressive numbers, 1,865 walks to 1,133 RBI. So I continued along with my search and stayed on the path of second-basemen. Hall of Fame second-baseman, to be precise.
I haven't done a full search (but I most definitely plan on doing so) but I looked at the most recent HOF second-baggers that immediately came to mind: Craig Biggio, Paul Molitor, Robin Yount (part-time, but still), Ryne Sandberg, and Roberto Alomar.
Know who had more walks than RBI among those Hall of Fame second baseman's careers? Not one of them. Biggio was only 15 BB away from his career RBI total (1,175) and Alomar was a little over 100 walks away (1,032 BB to 1,134 RBI).
Next: Spring Training Notebook: Hot Lava Erupts
Now, I understand comparing Luis Urias to any of these MLB legends would be an incredibly silly (and hasty) thing for me to do. But the BB/RBI ratio that I noticed in Urias drove me to dig a little deeper. And, lo and behold, look at those names that popped up.
I'm not saying that Luis Urias will be a HOF'er. I'm just saying that his numbers are downright impressive. Hopefully, the San Diego Padres will get to see Urias getting on-base at these types of clips in the very near future.