San Diego Padres: Buckle Up, 2018 Should Be An Exciting Ride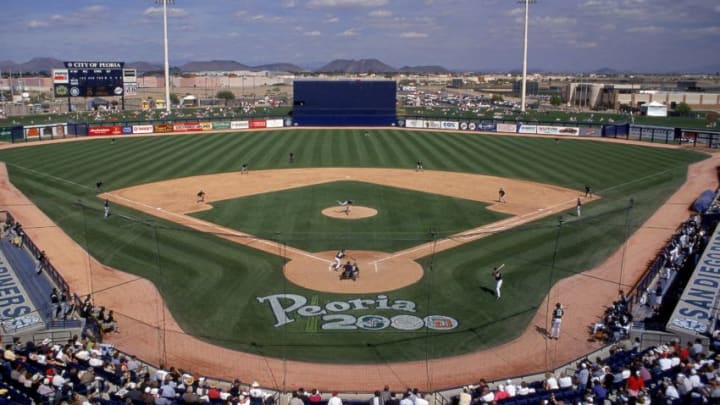 9 Mar 2000: A general view of the baseball diamond taken during the Spring Training Game between the Chicago White Sox and the San Diego Padres at Peoria Sports Complex in Peoria, Arizona. The White Sox defeated the Padres 7-1. Mandatory Credit: Donald Miralle /Allsport /
Pitchers and catchers report for their first official workouts of spring training today. As the San Diego Padres begin setting up for the party that will commence on March 31st, hope springs eternal in Peoria, AZ.
Here we are, folks. Today is the day San Diego Padres fans been waiting over four months for. No, I'm not talking about Valentine's Day. Today is the day that most baseball fans look forward to more than their birthdays and Christmas combined. Maybe today is a little less anticipated than Opening Day, but it's still a big day nonetheless.
During the six weeks that precede the iron-man competition that is the MLB season, players, fans, front office personnel, even ownership can't help but let their imaginations get carried away while dreaming of what the upcoming season could hold.
The Padres probably won't win a World Series this season, but a fanbase can dream, cant they? If every one of the Friars' chips falls the right way, this franchise could be in for a very exciting season.
San Diego Padres have an opportunity to make some waves this year
Forget about any possible additions that might still be made. Forget about the ever-present risk of injury. Just imagine this young-ish San Diego Padres roster staying healthy all year, being productive yet at the same time still experiencing the growing pains all young players must go through.
More from Friars on Base
That would mean the San Diego Padres young pitching staff would continue developing under the valued leadership of their veteran "ace" Clayton Richard, pitching coach Darren Balsley, and manager Andy Green.
Luis Perdomo, Bryan Mitchell, and Dinelson Lamet all have the potential to break out in a very big way this season. If things go well, that's a disinct possibility.
San Diego Padres fans must be patient, but still dream big
The franchise and their fanbase can't sit around waiting for Shmeric Shmosmer (apparently we're not saying his name, as per Andy Green's presser yesterday) to make up his mind.
If he chooses to come to San Diego, fantastic. There are always risks to making a huge free-agent addition, especially when that player will be in his mid-to-late 30s when the contract is up. But the juice has the potential to be worth every ounce of the squeeze in this situation.
If he did decide to come here, it would undoubtedly make the San Diego Padres a better team in a number of ways. But that's not what today is about. Today is about looking forward. Looking ahead to a season that will surely have its share of both ups and downs.
Next: Padres Spring Training Notebook: Day One
Regardless of where the San Diego Padres finish in the standings this year or who comes onboard before (or during) the season, this team has a lot more at stake than simply wins and losses. This is a franchise jam-packed with elite prospects, both MLB-ready and not.
More than anything else, 2018 will be about developing those players. Over time, if it's done correctly, the wins will come. If they come this year, all the better. Happy P&C Day, Friars fans!!