Breaking Down San Diego Padres MacKenzie Gore and Adrian Morejon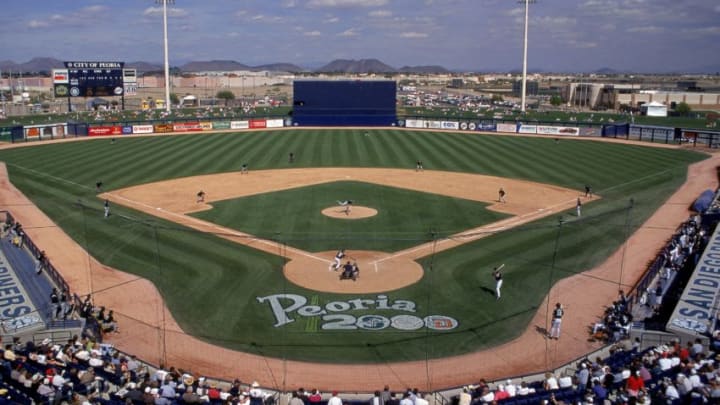 9 Mar 2000: A general view of the baseball diamond taken during the Spring Training Game between the Chicago White Sox and the San Diego Padres at Peoria Sports Complex in Peoria, Arizona. The White Sox defeated the Padres 7-1. Mandatory Credit: Donald Miralle /Allsport /
MLB.com is currently unveiling their Top 10 prospects by position lists in anticipation of their full Top 100 list on January 27th. The San Diego Padres feature two young arms on the Top 10 Left-Handed Pitchers list, MacKenzie Gore, and Adrian Morejon.
When the list of Top 100 MLB Prospects is revealed on January 27th, it is expected to be filled with the names of San Diego Padres players. To pass the time until the 27th, MLB.com is releasing their Top 10 rankings by position, one each day leading up to the overall Top 100.
On Wednesday, the Top 10 left-handed pitching prospects list was published. Sitting atop the ranking is 19-year-old, MacKenzie Gore. Joining Gore on the list is a fellow teenage fireballer, Adrian Morejon. Morejon comes in, surprisingly, at number six. The two future Friars are expected to make their full-season minor league debut in 2018.
Jonathan Mayo of MLB.com had nothing but high praise for the duo. Mayo believes that neither of them are "safe" picks. Both Gore and Morejon are legitimate, elite prospects who have an enormous ceiling. Whether it's through the draft (Gore) or through international scouting (Morejon), the Padres are finding unmatched wealth.
MacKenzie Gore (6'3" 180 lbs, 3rd overall pick in 2017)
At just 18, Gore exhibits advanced control that measures well beyond his years. He walked just five batters his senior year of high school (158 strikeouts, 0.19 ERA), and wasn't phased by a move to the Arizona League. Over 21 innings, Gore walked just seven batters while striking out 34.
He possesses four above-average pitches that can avoid bats with relative ease. According to MLB.com, his late-action curveball grades at a league-high 60. There's also a 90-92 mph fastball, a slider, and a changeup. Controlling two plus-pitches is fantastic, but four? His repertoire is just one reason why he has the highest ceiling of all 10 prospects on this particular list.
More from Padres News
The most highlighted aspect of Gore's makeup is his delivery. The enormously high leg-kick adds a lot of deception to his pitches. When you combine his command, repertoire, and delivery with his athleticism, you get a prospect who won't need a lot of seasoning in the minors (ETA 2020). However, looking further down the road (way down the road), scouts are uncertain about how long his body will hold up. If there is one knock on Gore, this is it.
Gore will, more than likely, begin 2018 with the full-season A-ball Fort Wayne Tincaps. If he puts up numbers similar to his 0.98 WHP and 1.27 ERA from last year, he should end the year with High-A Lake Elsinore.
Adrian Morejon (6'0" 165 pounds, Cuba 2016)
Morejon joined the Padres in 2016 as part of A.J. Preller's $80 million-plus international signing class. With $22 million in investment already allocated to Morejon (half went to Morejon as a signing bonus, the other half was a penalty), the organization has to be proud of his ranking.
Like Gore, Morejon has multiple advanced offerings. His fastball sits at 93-95 with movement on both sides of the plate. The changeup lags behind, but scouts aren't worried about it yet. His second best offering is his big, looping curveball. Breaking across multiple planes, Morejon uses it to keep hitters off-balance early in the count and buries it in the dirt to finish them off.
Live Feed
Sandy Alcantara rumors: 4 monster trade packages to get the Marlins to budge /
FanSided
He sequences pitches very well and isn't afraid to pitch backwards. You would expect an 18-year-old pitching in full-season A-ball to rely on his fastball, but that's not the case. Morejon shows extreme confidence in every single one of his pitches.
The Cuban-native did not disappoint in his stateside debut. As you can see, fatigue seemed to get to him after his promotion to Fort Wayne. Morejon hadn't competed in nearly two years, so that was expected.
"Tri-City: 2-2, 3.57 ERA, 35 IP, 3 BB, 35 K's, .266 OBAFort Wayne: 1-2, 4.23 ERA, 27 IP, 13 BB, 23 K's, .264 OBA"
Morejon will need to better his command in 2018. A slight clean-up of his delivery should fix this issue. He falls off to the third base side and varies his release point at times. However, he has a very smooth, repeatable delivery that is easily fixable.
Don't let his size fool you. There's a myth that smaller pitchers struggle to make it to the big leagues. That's false. His ability to pitch at a downward angle allows him to play as if he's two-three inches taller. Morejon is a competitor and a grinder. Having watched multiple outings of his, there's no denying that, regardless of the situation, he's giving max effort.
Overall Top 100 coming soon
Keep in mind, San Diego has a few other pitching prospects who may find themselves in the overall Top 100. Cal Quantrill, Anderson Espinoza (both of whom just missed the Top 10 RHP list), Michel Baez, Eric Laur, and Joey Lucchesi all have major league talent.
Stay tuned on January 27th to find out who makes the overall Top 100 Prospects list on MLBPipeline.com