San Diego Padres Broadcasts Will Be Sileo-Free Zones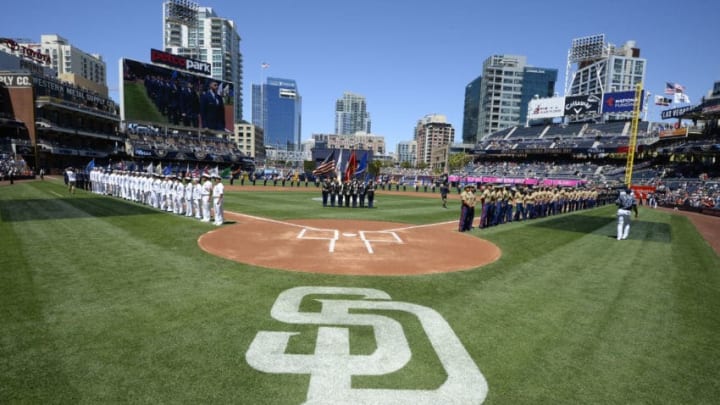 SAN DIEGO, CALIFORNIA - APRIL 17: U.S. military members line the field on Military Opening Day before a baseball game between the San Diego Padres and the Arizona Diamondbacks at PETCO Park on April 17, 2016 in San Diego, California. (Photo by Denis Poroy/Getty Images) /
Dan Sileo recently left the Mighty 1090 and may be angling for a spot on Entercom's FM 94.9, the radio station that broadcasted Padres' games last season. However, the Padres have made it clear, according to a variety of sources including Dennis Lin of the San Diego Union Tribune, that Sileo will have no part in game broadcasts.
How Sileo ever got the gig on 1090 remains a mystery. He came to San Diego with a boatload of luggage including being fired from multiple stations in Florida for his egregiously sexist and racist comments. Somehow he landed at the Mighty 1090 in early 2014, possibly at the recommendation of Padres CEO at the time, Mike Dee.
Sileo had a brief stint in the National Football League when he played for the Tampa Bay Buccaneers in 1987. He also tried wrestling but then turned to radio in the Bay Area and later Florida.
Dee started his career in baseball with the Padres in 1995 but followed Larry Lucchino out the door when both left for jobs with the Boston Red Sox. On July 17, 2013, the Padres hired him as chief executive officer, but his tenure ended mysteriously in mid-October 2016.
Before the 2017 season, thanks to Dee, the Padres switched from the Mighty 1090, which has a reach from south of the border to Santa Barbara, to Entercom's FM 94.9, which doesn't even reach all of San Diego County. The fact that AM 1090 has a sports talk format and FM 94.9 plays alternative rock music, makes the decision seem even more curious and counterproductive. It may be no coincidence that a few months after leaving the Padres, Dee joined Entercom Communications as an executive.
More from Padres News
Although traditional radio has become less popular in general with younger listeners, many fans still regard baseball as a game much better suited to radio than television. Thanks to MLB's foray into digital media with MLB.TV and MLB At Bat, radio broadcasts of games have become even easier to access.
However, the pre and post-game shows still reside on traditional radio. Last year, the pregame show on FM 94.9 with host Rich Herrera became an afterthought, often lasting less than 15 minutes.
With the Chargers' departure, the Padres have an opportunity to capture a larger fan base, and radio still represents one way to attract fans. Dee's decision to switch from AM 1090 to FM 94.9, flies in the face of the need to grow that fan base. The Padres will need to address this ill-conceived switch in the future.
As a Padres fan, I am celebrating the fact that game broadcasts will be a Sileo-free zone this season. The fact that the team did not hire him gives me renewed hope in the team's direction, hope that was in short supply during Mike Dee's latest tenure with the Padres.
Male fans undoubtedly outnumber us, but being female does not disqualify us from being passionate followers of the Padres. If the team had chosen such an obvious chauvinist loud mouth to broadcast games, it certainly would have sent us a negative message.