How the Hiring of Dave Cameron Can Help the Padres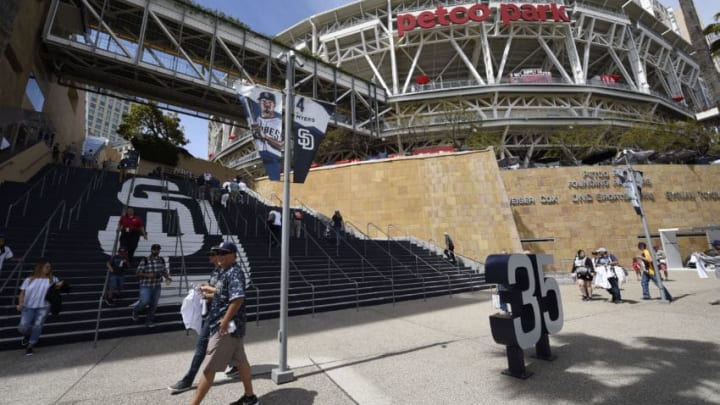 SAN DIEGO, CA - APRIL 7: Fans wait to get into PETCO park on opening day before a baseball game between the San Francisco Giants and the San Diego Padres on April 7, 2017 in San Diego, California. (Photo by Denis Poroy/Getty Images) /
The San Diego Padres took a step into the future last week by hiring the former managing editor at Fangraphs, Dave Cameron. Cameron has spent the better part of 10 years writing for the most respected sabermetric site on the internet and is considered one of the sharpest minds in baseball analytics. This is a very exciting time to be a Padres fan.
General Manager A.J. Preller and Cameron should make a very progressive duo (a front office Batman and Robin, even) with a modern vision for the future of the team. Preller himself is considered one of the most forward-thinking GMs in baseball. Having Cameron and Preller on the same page will make for an enterprising organization; one that could stay competitive for an extended period of time.
The good rapport doesn't stop there. Cameron is a self-professed fan of Padres manager Andy Green. Being the man people are going to come to for player research and suggestions, you want as many guys on your side as possible.
Cameron's proven razor-sharp analysis will help the Padres gain an edge in player evaluation and development. He's also a graduate of UNC-Greensboro with a degree in economics. The Padres have been pretty frugal in their spending- they currently stand as Major League Baseball's fourth-lowest payroll- and Cameron's education could be a factor in subsequent spending.
This season's remaining free agent class still has some big names as well as big bargins. If I could have anyone looking for a needle in the hay, it would be Cameron. He has already speculated that big-team spending habits are the reason teams are reluctant to break the bank on some of this year's available players.
More from Padres News
The Padres have been tied to several players this offseason, one of which is the oft-discussed Eric Hosmer. Should the Padres break the bank for Hosmer? If Cameron doesn't know, nobody knows. I emplore fans to put their faith in Cameron's abilities to help the Padres make smarter, more informed decisions.
Cameron's wrote this scathing article on the shipwreck of an organization, Miami Marlins. This piece is the prefect example of his ideals and understanding of the inner working of baseball organizations.
What bringing on Cameron means for Padres fans is contentment knowing they have one of the best analytical minds working for their team. While Cameron wont be guaranteed to be the magic wand that transforms the Padres into contenders overnight, he has the potential to be the guiding light that leads the team into years of success.
Next: Multiple Padres Top Prospects Will Be in MLB Spring Training