San Diego Padres: A season of surprises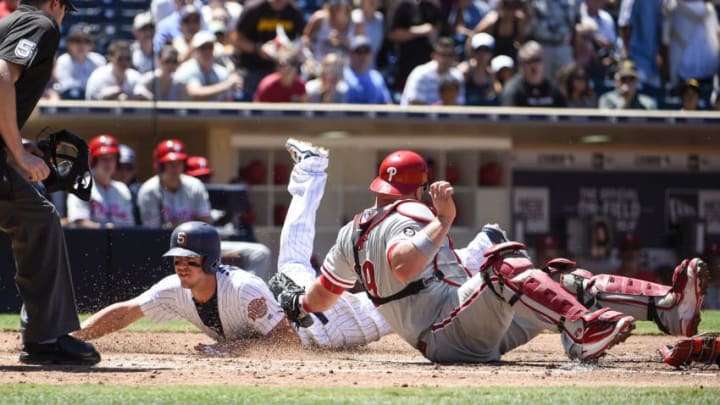 SAN DIEGO, CA - AUGUST 16: Wil Myers /
What has gone as expected for the San Diego Padres in 2017? Just about nothing, which keeps us all on our toes.
When he stole second, fans applauded. When he stole third, fans were beyond impressed. And when he stole home thanks to an Austin Hedges rundown, fans were floored.
It was the first time in over six years that any major league player has swiped three bags in an inning, and yes, it was a Padre who did it. Which player would fans expect this to be? Probably not Wil Myers.
But the stunning feat of the San Diego first baseman in the fourth inning of Wednesday afternoon's game only falls in line with how the 2017 season has been going for the Padres. Just when you think everything is under control, something goes wrong. And just when you count them out, they're back and stronger than ever.
The wild events of 2017 began early when Myers hit for the cycle. He was on top of the world, and fans thought for sure they had an all-star first baseman once again. Now, he's hitting .242 with the most strikeouts in the league.
A similar degree of disappointment has resulted from the play of left-handed starter Clayton Richard. Fans celebrated when the Padres signed him to a one-year deal late in the offseason. They had their ace. What they didn't know is that their "ace" would be 5-12 with a 5+ ERA in August.
The rest of the rotation appeared set as well. Jered Weaver, Trevor Cahill, and Jhoulys Chacin were added to bring experience to an otherwise thin pitching staff. Now, as we sit here in August, Chacin has been the only productive starter, while Weaver has been hurt since May and Cahill is wearing a Kansas City uniform. Once again, not what anyone would have anticipated.
More from Friars on Base
On the opposite end though, positive surprises have been just as plentiful. Had anybody even heard the name Jose Pirela prior to 2017? And how about the emergence of Carlos Asuaje, and the consistent productivity of Cory Spangenberg? One could argue that these pleasant surprises have reconciled Ryan Schimpf's abscence, or the sub par play of Myers and Yangervis Solarte.
As for the pitching staff, while it hasn't been ideal for the veterans, the young starters have stepped up. Luis Perdomo wasn't supposed to improve so much throughout a single season, and Dinelson Lamet wasn't even supposed to be a major league starter.
So when will a Padre next steal three bases in a single trip around the base paths? Probably when you least expect it. And that's the beauty of this season, as beautiful as a 54-67 season can be.