San Diego Padres: News Flash, SDUT: Team in Town Called the Padres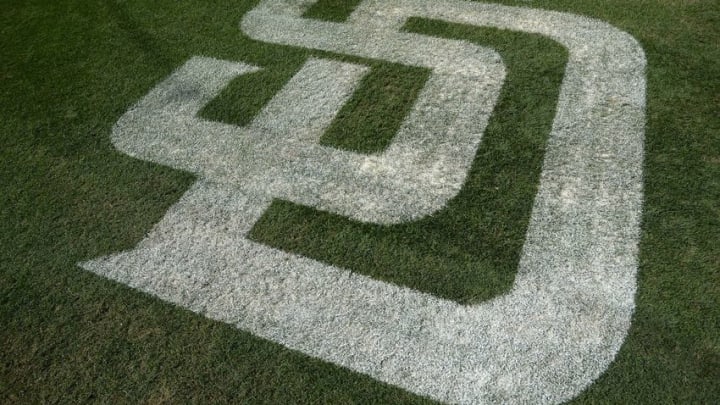 Oct 1, 2015; San Diego, CA, USA; A detailed view of the San Diego Padres logo on the field before the game against the Milwaukee Brewers at Petco Park. Mandatory Credit: Jake Roth-USA TODAY Sports /
The clear bias in sports coverage by the San Diego Union-Tribune often works against the San Diego Padres. Enough is enough, says one writer.
Apparently, San Diego Union Tribune sports editor Jay Posner and columnist Kevin Acee find themselves completely stumped on how to replace the copious coverage given to the Chargers now that the team has packed up and left.
Readers' Representative Adrian Vore has even gotten involved, requesting input from readers on the future of Chargers coverage. Neither Posner nor Acee nor Vore even mentioned the Padres to say nothing of other local teams like the Gulls or the various college teams.
In its glut of coverage of the NFL and the Chargers, the UT also ignored signs that the league just may have reached the height of its popularity. Both television ratings and attendance have started to slide. Last summer Sports Illustrated published an article entitled "Football's Endgame: What would happen if America's pastime just…died."
Instead of moaning about the Chargers desertion or promising to continue writing about the team in perpetuity, Posner, et. al. should respond to the decline in football's popularity and consider actually acknowledging the existence of the teams that have been here all along and aren't leaving anytime soon.
More from Friars on Base
One excuse for ignoring the Padres could be lousy management decisions and a losing record since 2010. However the Chargers haven't been shining examples in either regard, although the team did post a 9 and 7 record in 2013. Another excuse could be a general assumption that baseball cannot possibly compete with football for the hearts and minds of local fans. Anyone who believes that wasn't paying attention in 1998.
"Mine eyes have seen the glory. Now my ears are bursting. Never during 41 World Series have I heard cheering like there was in Game 3 of the World Series," wrote Jerome Holtzman of the Chicago Tribune. "Imagine, an enormous circular 20-story building without doors or windows and 64,667 people, packed at four levels, yelling their heads off for the home team."
Next: 2017 NL West Scouting: The Colorado Rockies
The Padres would have to defy all the odds and the prognosticators to incite that level of passion this year. However, the local newspaper has a responsibility to acknowledge that latent passion and cover the sports teams in the county.