San Diego Padres: Don't Give up on Yimmi Brasoban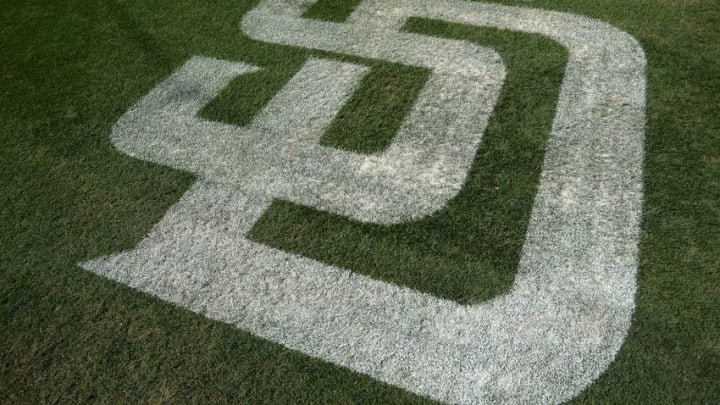 Oct 1, 2015; San Diego, CA, USA; A detailed view of the San Diego Padres logo on the field before the game against the Milwaukee Brewers at Petco Park. Mandatory Credit: Jake Roth-USA TODAY Sports /
Despite a recent injection to treat an elbow ailment, the San Diego Padres ought not to rule out a major league future for prospect Yimmi Brasoban.
The San Diego Padres are searching for pitching depth. In the minor leagues, they have several promising prospects. Unfortunately, they still may be several years away.
One pitching prospect who is especially exciting to fans is right-hander Yimmi Brasoban. Unfortunately, Brasoban has been experiencing discomfort in his elbow. In response, he received an injection in an attempt to avoid surgery.
Recovery time is expected to be several months, meaning that the righty could be ready to go for the beginning of the 2017 season.
But while no specifics were detailed, there seems to be more to this story. After all, the Padres did not protect Brasoban from the Rule 5 Draft as expected. Instead of moving him to the 40-man roster to do this, they protected four other players.
This means that they are confident no team has intentions of selecting the 22-year-old on December 8th. Unless, of course, the Padres just don't care.
More from Friars on Base
But even if they know something about the situation fans don't, the organization still ought to be optimistic about the prospect's future. His high 90s fastball and devastating slider could make him a juggernaut in the back end of the bullpen. Many of his mechanics on the surface are reminiscent of some of baseball's elite late-inning relievers, such as Andrew Miller and Aroldis Chapman.
No matter what, the team shouldn't rush the native of the Dominican Republic. They should fend off this injury, giving him ample time to recover.
Once they do this, the potential is encouraging. Brasoban ended 2016 in AA, meaning that he may only be one to two years away from contributing at the major league level. Much like the influx of other prospects to the majors at this time, Brasoban could be a critical piece to 2019's contending team.
Next: Breaking Down Retired Numbers
Especially due to baseball's increasing emphasis on relief pitching, Brasoban could be a valuable piece to keep in the system. A converted starter, the young righty has a ways to go. But the organization ought to be sure not to let this minor injury derail an otherwise promising player.