AJ Preller and Padres had been "drooling" over Anderson Espinoza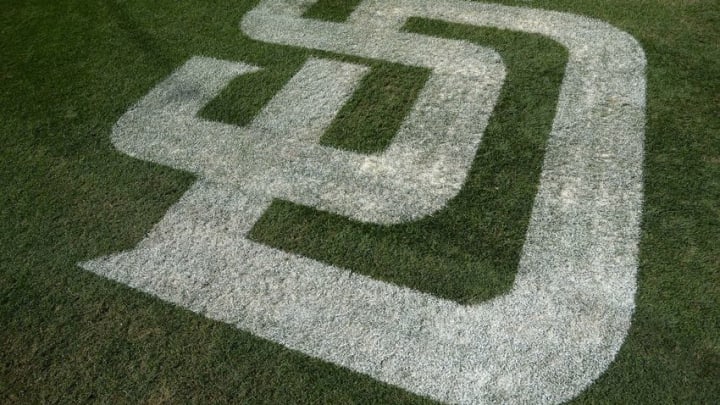 Oct 1, 2015; San Diego, CA, USA; A detailed view of the San Diego Padres logo on the field before the game against the Milwaukee Brewers at Petco Park. Mandatory Credit: Jake Roth-USA TODAY Sports /
AJ Preller and the Padres interest in Anderson Espinoza was not a spur of the moment type deal.
According to an interview with Mike Dee of the Padres by Jeff Sanders of the Union Tribune, the Padres had long sought after Espinoza. It is reported that the Padres made two efforts to land him. One was at last year's trade deadline.  Another was during the Kimbrel trade negotiations.
More from Padres News
This recent news underscores what AJ is trying to do, building a team for 2018 and beyond. Trading Drew Pomeranz was not some "willy nilly" trade. It was what he had to do to get the player he had long sought after. Given his SOLID trading track record recently, I believe he got this right. Remember AJ traded Yonder Alonso (by the way having a soft 2016) for Drew Pomeranz. Now Alonzo turns into Espinoza, in the what many are saying is the BEST pitching prospect in all of the minor leagues. Who would not trade Yonder for that??
In 1990 Boston was in the thick of the playoff race and traded for a 37 yr old pitcher named Larry Anderson and sent minor league 1st baseman Jeff Bagwell to the Houston Astros. Larry Anderson it turns out was a one month rental. He left Boston that fall as a free agent to sign a two year deal with the San Diego Padres. He had two decent but not sterling years with the Padres. Two more years with Philly, then out of baseball. Jeff Bagwell had a 15 yr Hall of Fame career with the Houston Astros. One of the last of a set of players, like Tony Gwynn, who played his whole major league career with one team.
Next: Edwin Jackson Nearly Throws No Hitter in Strong Debut
That trade ranks up there as one of the top 5 worst trades ever. Long time Red Sox fans groan when you mention it. In fact there were several post on Red Sox blogs, equating this trade with that. I certainly hope so. Lets dream of multiple Cy Young winning years for Espinoza. You know AJ dreams of that too!!
Odd that Espinoza's first name is "Anderson". Maybe an "Anderson" will bite Boston again.