Peter Seidler hoping to help bring MLS to San Diego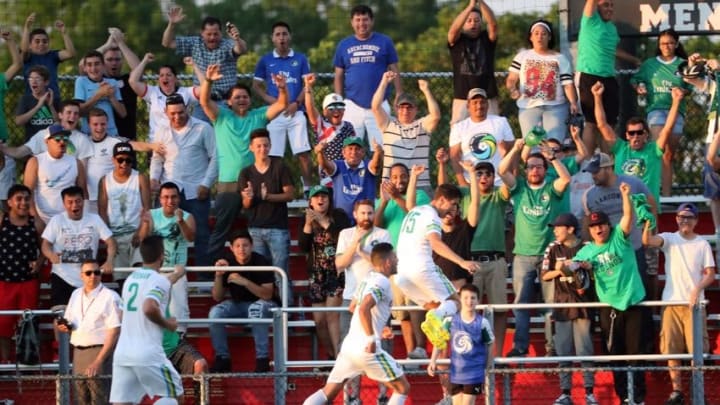 Jun 29, 2016; Jamaica, NY, USA; New York Cosmos midfielder Ruben Bover (15) celebrates his goal during the first half against the New England Revolution at Belson Stadium. Mandatory Credit: Anthony Gruppuso-USA TODAY Sports /
Padres lead investor Peter Seidler is one of three prominent San Diegans hoping to bring a Major League Soccer team to San Diego.  Apparently the plan is to eventually have them share a stadium with the San Diego State football team in Mission Valley.
Retired Qualcomm executive and Mike Stone of FS Investors are also on board with the idea. Nick Stone, who works for Mike Stone (no relation), is managing the project on their behalf.
More from Padres News
Seidler loves the potential of MLS possibly coming to San Diego.
"I think the league is strong, the commissioner, Don Garber is strong, and those things matter to me," Seidler told The Associated Press. "Ultimately, if there was a new soccer-focused stadium, whatever that means, I think it would be a really cool venue for San Diego, just like Petco Park has proven to be such a great thing for the city." (Yahoo Sports)
Seidler understands though that there is a lot of work to be done and that it could be years until this would become a reality.
"I look back to when I first started thinking about the Padres. On the first day it's a longshot and it takes a long time for something like that to not be a longshot," Seidler said. "Cool things like this start with one step at a time. I think Mike's done a great job of analyzing it and thinking through the relevant business as well as community issues, and there's probably a little bit of positive momentum that hopefully leads somewhere. My personal opinion is that it would be great for the city." (Yahoo Sports)
As Seidler mentioned, this would be a great opportunity. San Diego is a beautiful city and having a soccer team would be a great opportunity for MLS to bring more exposure to the city.
Next: Upton Jr Flashing the Leather
Soccer is continuing to grow in the United States and San Diego is already a popular place for tourists. Petco Park will also be hosting the MLB All-Star Game on July 12.
MLS currently has 20 teams and will expand to 22 in 2017. The league plans on having 24 teams by 2020. The LA Galaxy and San Jose Earthquakes are the only California teams currently.