Padres Busy on Draft Day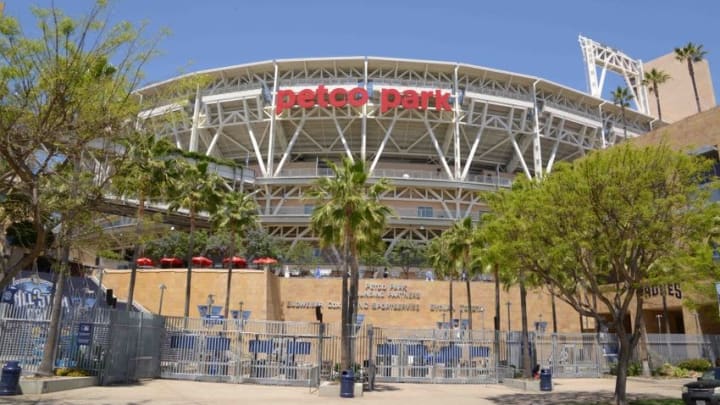 Apr 23, 2016; San Diego, CA, USA; General view of Petco Park exterior. The venue is home of the San Diego Padres and will play host to the 2016 MLB All-Star game. Mandatory Credit: Kirby Lee-USA TODAY Sports /
The Padres got to work Thursday building a strong farm system with the June draft, finally reaping the rewards of letting free agents walk last season and stockpiling picks in the draft's first round.
They had the 8th overall pick and 5 total for the first round. For their first pick they picked Stanford pitcher Cal Quantrill who underwent season ending surgery last year and didn't pitch this year but had projected as a number one overall pick prior to his injury.
More from Padres Draft
After the number 8 pick, they selected high school SS Hudson Sanchez with the 24th pick, Kent State lefty Eric Lauer with the 25th pick, Florida Junior outfielder Buddy Reed with the 48th, and high school pitcher Reggie Lawson with the supplemental 71st pick.
Quantrill wasn't a big surprise, though other teams shied away from him with his injury history at a young age. His father Paul Quantrill pitched for years in the major leagues and many teams suspect that the Padres will be able to sign him for less than his slot pay which they can use to sign their other picks.
Some were surprised by their pick of Hudson Sanchez, who was seen as more of a third round pick but has shown flashes that his bat could push him higher and faster than many expect. MLB.com called it the big surprise of the first round.
One note is that the Cardinals had the 23rd pick and picked SS Delvin Perez who the Padres were interested in but a rumor had surfaced he failed a PED test. Maybe the Padres were set on a shortstop and with Perez gone they went with their next SS pick in Sanchez?
Getting Lauer where they did seems to be a steal as MLB.com also says he could be the first college pitcher to reach the majors. It is possible that the Padres knew they had the picks back to back but by signing Lauer second could sign him for a lower slot bonus than even one pick above. With Sanchez they might be able to sign for less simply because he wasn't expected to go so high. Shrew move Padres.
Next: Padres See Mirror of Themselves in Braves
Lauer led all D-I pitchers last year with an ERA of 0.69, the lowest since 1969. He has a low 90's fastball with a slider, curve, and change-up. His slot pay is about $2.16MM.
The draft will continue tomorrow but the Padres seem to be off to a good start. How many of these players reach the majors as Padres or part of trades will be a story worth watching over the next few years.