Padres Family in the Courtroom: Is Gwynn's Family Ignoring Research?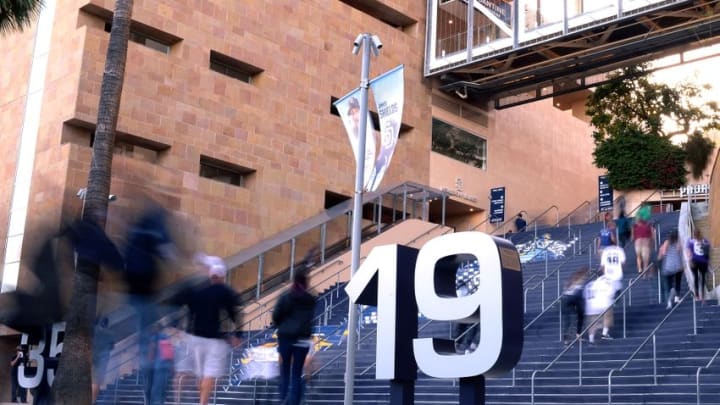 Apr 22, 2016; San Diego, CA, USA; Fans enter Petco Park near the retired number of the late San Diego Padres former player Tony Gwynn before the game against the St. Louis Cardinals. Mandatory Credit: Jake Roth-USA TODAY Sports /
Cancer. Yes, you just got a shiver or winced or a rotten feeling in your stomach. It happens. Both the reaction and the disease. The killer known as Salivary Gland Cancer took Tony Gwynn and Beastie Boy MCA from us too soon. We don't know why it happens, we have educated guesses and risk factors that we know about, but we don't know why it happens. We simply don't know.
Which is why the recent lawsuit by the Gwynn family (Case # 37-2016-00017104-CU-PO-CTL in the San Diego Superior Court, which is open information accessible by anyone) against Altria Group, Doug Derner, Exoil Corporation, Don Feblowitz, Rob Quinn, Smokeless Tobacco Company LLC and Young-Westwood Enterprises perplexes me.
More from Padres News
"Apr /
Yes, unfortunately you read that right. I don't understand the lawsuit. The American Cancer Society (ACS) goes to great lengths to detail and study risk factors. Want to guess what the risk factors are for Salivary Gland Cancer? Old age, male, radiation exposure, family history, possibly fatty food diet low in vegetables. They explicitly say in their research that smokeless tobacco, while a risk factor in MANY OTHER cancers, is not a risk factor in salivary gland cancer.
In fact, multiple sources including the ACS, an article in Nutrition and Cancer (a medical journal, from June 2008), a Finnish journal article and pretty much every other academic article I read that references salivary gland cancer explicitly say that tobacco is not a risk factor for this specific cancer. Which is what robbed our children and his family of Tony Gwynn. However, just about every other news article has a reporter saying it was the chewing tobacco. Which is why I don't understand the lawsuit.
Chewing tobacco is terrible, and it is a leading risk factor in plenty of other cancers, including the oral, esophageal and pancreatic varieties according to an institution called the National Cancer Institute. But it is not a risk factor for Salivary Gland Cancer. This lawsuit takes Tony Gwynn's name and needlessly drags it through the mud, burdens the legal system unnecessarily and simply appears to be spreading half-truths. Tony Gwynn was a great San Diegan, loyal to his team, his sponsors and the people in his life, and I don't want to take this away from him. Indeed, he may have been used early in his life and that is tragic. But this lawsuit is not the way to continue on his legacy of greatness.
Next: Padres Outfield Prospects Hitting Well in AAA
When I search for anything related to this topic there are hundreds of results, and nearly all tell me smokeless tobacco caused his death, which is indicative of a problem that does need to be addressed: shoddy reporting. Using Tony Gwynn's name and legacy to generate traffic is just irresponsible. Tony Gwynn deserves better than that. You, the reader, deserve better than that.