3 San Diego Padres who won't be back next year after playoff exit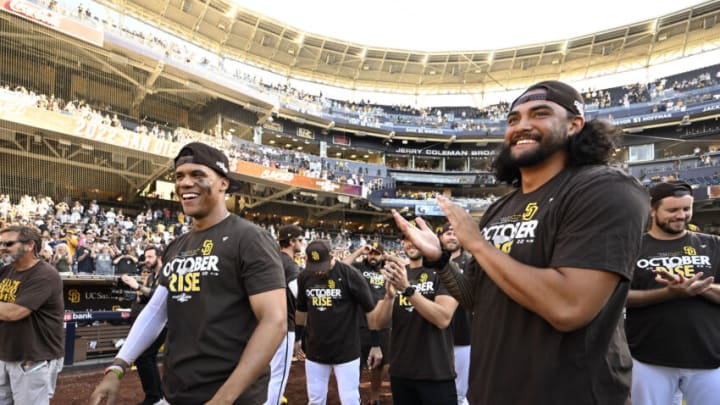 SAN DIEGO, CA - OCTOBER 2: Juan Soto #22 of the San Diego Padres (L) and Sean Manaea #55 celebrate (Photo by Denis Poroy/Getty Images) /
Another season of San Diego Padres baseball has come to a close. Though they suffered some injuries that would have destabilized most teams, San Diego was able to pull together some gritty postseason wins, highlighted by an upset of the hated Dodgers in the NLDS.
The front office has San Diego positioned to fight the Dodgers for NL West (and potentially National League) supremacy over the last few years. With a lineup featuring names like Juan Soto and Manny Machado on a regular basis, the Padres figure to replicate their success from this season in the immediate future.
Unfortunately, not everyone that is currently on the roster will be around to see the Padres turn into potential pennant winners. Some contributors from the 2022 squad will inevitably have to be jettisoned for either competitive or financial reasons.
These three Padres players gave it their all in 2022, but Bob Melvin and A.J. Preller would be well within their rights to move on after this season. Be it age, poor performance, or the team's current depth chart, don't expect to see this trio in brown and gold.
3 San Diego Padres who won't return in 2023
3. SP Sean Manaea
Preller didn't give up a ton to get Manaea from Oakland, as Adrian Martinez had a 6.24 ERA in 12 MLB starts and Euribiel Angeles had a .278 average with minimal power for the A-ball Lansing Lugnuts. While relatively low risk due to his contract situation, Manaea was not great during his first season in Southern California.
Manaea posted an ERA just a few ticks under 5.00 in a pitcher-friendly season, giving him unsightly marks of -0.8 bWAR, 4.53 FIP, and 75 ERA+. His walks were up and his strikeouts were down, which will make it tough for GMs around the league to get excited about him. Stinking in the NLCS didn't help his case.
Will the San Diego Padres retain the struggling Sean Manaea?
Though Mike Clevinger is also a free agent, he will likely be retained. The top three of ace Yu Darvish, Joe Musgrove, and Blake Snell appear to be set in stone. The Padres have more than enough depth to where losing Manaea in free agency won't hurt them too much.
Manaea's Oakland teams had some success, so this isn't a case of him losing focus on a contendign team. For whatever reason, the southpaw never got into a groove in San Diego. Manaea needs to go somewhere where they will give him a long leash in order to get back on track, and the Padres aren't that place right now.