Ted Leitner and Larry Lucchino to be welcomed into Padres Hall of Fame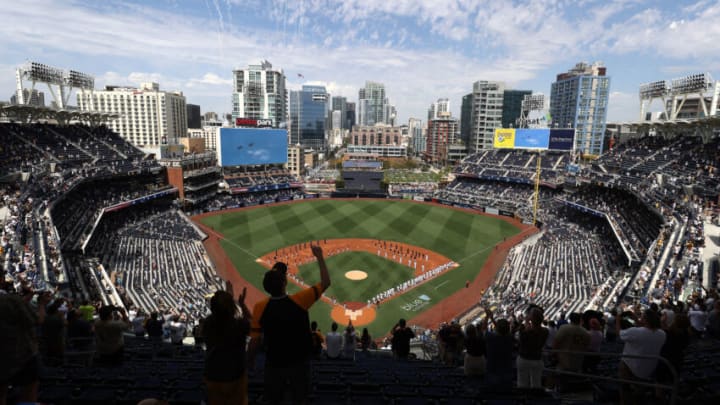 SAN DIEGO, CALIFORNIA - APRIL 01: A general view of the stadium as teams were announced prior to a game between the Arizona Diamondbacks and the San Diego Padres on Opening Day at PETCO Park on April 01, 2021 in San Diego, California. (Photo by Sean M. Haffey/Getty Images) /
Two former San Diego Padres members, Ted Leitner and Larry Lucchino, will be welcomed into the Padres Hall of Fame this July.
The San Diego Padres are set to welcome two more members, Ted Leitner and Larry Lucchino, into their franchise Hall of Fame. Leitner and Lucchino both played major roles in the development of the team and deserve the highest recognition for their work.
Lucchino was directly involved in many teams across MLB. He was the president of the Baltimore Ravens and served as both president and CEO for the Boston Red Sox and the Padres. He helped positively build the teams and bring them to success, and he proved to be an asset to the Padres franchise when they won two NL West titles during his time in 1996 and 1998. He currently owns the Red Sox Triple-A affiliate in Worcester, MA.
He played a major role in the development of the team's success, and he also helped bring in a new stadium that is a beloved part of the franchise today.
Larry Lucchino was one of the biggest driving factors of Petco Park
Lucchino is given a huge amount of credit for the development of Petco Park. According to the San Diego History Center, "Lucchino outlined a vision of a ballpark that looked and felt and reflected San Diego, not a classical Eastern red brick ballpark, but something that was distinctive, perhaps the next generation of ballparks." He seemed to be passionate about the development of the park and faced any challenges face first.
The entire construction process faced many challenges and a suspension at one point, but Lucchino and other staff members came together to present their ideas and the impact Petco Park would have on San Diego.
""Lucchino and other members of his staff and consulting team were involved in literally hundreds of presentations. Lucchino successfully recruited influential fans and business leaders to lend their support and appear at public meetings and hearings. Throughout this process, even during the suspension period, Lucchino worked constantly to maintain public support for the project, to never lose momentum and to maintain a sense that a new ballpark in East Village was a good thing and inevitable." -Dave Nielsen, via Society for American Baseball Research"
Lucchino showed his admiration and dedication to the Padres through all his years involved in the franchise, and his induction into the Hall of Fame is highly deserved.
Lucchino will be inducted along with Leitner, who had an impact on the Padres that was just as large.
Ted Leitner was a long-time member of the San Diego Padres
Leitner was a beloved play-by-play announcer for the Padres for 41 years. He was so well-known and loved by fans that he earned the nickname "Uncle Teddy." Though he announced his retirement from broadcasting in 2021, he remains an important part of the franchise as a team ambassador.
Leitner's step down as an announcer was emotional, but his love and respect for the Padres were evident. Upon stepping down, he released a statement expressing his thankfulness for his 41 years of broadcasting.
""I will miss everything about the Padres broadcast that I have been privileged to be a part of for so many years. I've had the best seat in the house in San Diego for over four decades, and I've had the honor of working alongside Hall of Fame broadcasters while watching the greatest players to ever wear a Padres uniform. While the broadcast booth will always be in my heart, I look forward to working more closely with the San Diego community and our loyal fans in the future." -Ted Leitner, via MLB.com"
His dedication to the community after his retirement is admirable and will always be impactful on the Padres franchise. The Padres Hall of Fame is inducting two of the most important members of franchise history, and to see them go in together is special.