Padres take two players, lose three in 2020 Rule 5 Draft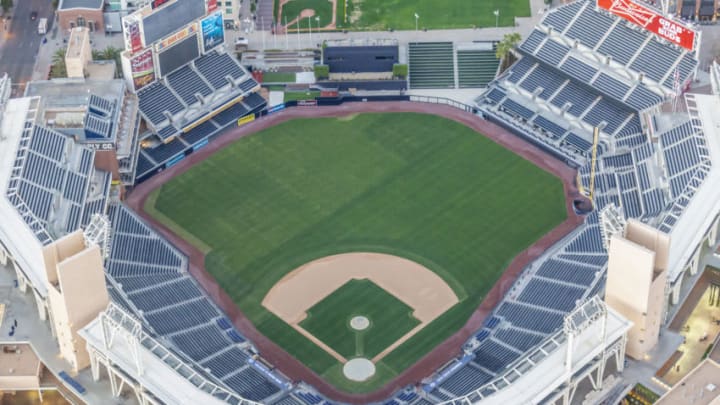 Petco Park, San Diego Padres (Photo by David Madison/Getty Images) /
Here is a brief recap of the San Diego Padres' results from the 2020 Rule 5 Draft.
The 2020 MLB Rule 5 Draft took place on Thursday, and the San Diego Padres selected two players and lost three, all taking place during the AAA phase of the draft.
Click here if you want to learn more about the Rule 5 Draft, but basically, teams without a full 40-man roster are allowed to select certain players from other teams who are not on their 40-man roster. Since all the players impacted from the Padres' perspective were taken in the minor league phase, however, those players are not subject to the same roster restrictions that those taken in the major league portion are.
Here are the players that the Padres selected:
Yorman Rodriguez, catcher, from the Toronto Blue Jays: Rodriguez, 23, has appeared as high as A ball and has five minor league seasons under his belt. He owns an impressive career batting average of .324, including when he batted .360 in 2019, with 14 career home runs and 195 RBIs.
Ben Ruta, outfielder, from the New York Yankees: Ruta, 26, has appeared as high as AA ball, in 2019. In four minor league seasons, he owns a career .271 batting average with 18 home runs and 138 RBIs, while he's also stolen 75 bases.
Meanwhile, the Padres lost the following players in the draft:
Martin Carrasco, right-handed pitcher, to the Chicago White Sox: Carrasco, 21, has three seasons of minor league baseball experience. He's pitched in two A ball games but mostly has pitched Rookie League ball. He owns a career ERA of 2.73 in 42 career games, including 13 starts.
Yohel Pozo, catcher, to the Texas Rangers: Pozo, 23, has six years in the minor leagues and has made it as high as A ball. He owns a career batting average of .278 with 25 home runs and 192 RBIs.
Ignacio Feliz, right-handed pitcher, to the Baltimore Orioles: Feliz, 21, has three years of minor league experience and has pitched as high as A ball. He has made 36 career appearances, including 35 starts, and owns a 4.00 ERA.