New-look Padres shine in series finale against Colorado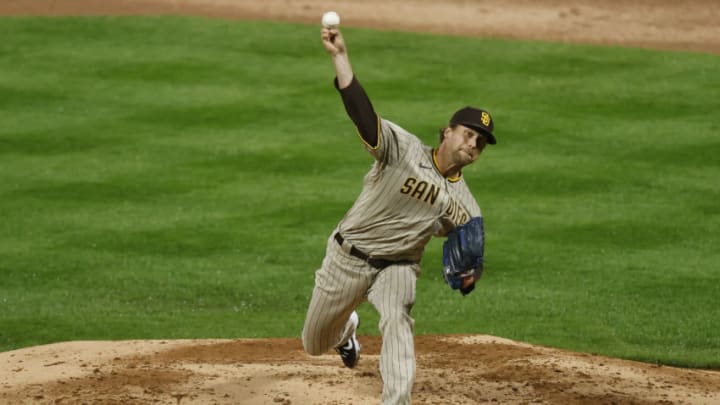 (Photo by Justin Edmonds/Getty Images) /
After a busy trade deadline, the Padres took a revamped club into the series finale against Colorado and dominated the contest.
Lost in the excitement of the Padres seemingly acquiring everyone at MLB's trade deadline, there was a game to play on Monday evening. The Padres had taken two of the first three games of the series, looking for a convincing series win. When the team released the lineup, it already featured some of the new faces in Austin Nola and Mitch Moreland, leaving Jurickson Profar as the only true weak link in the order, but he's picked it up as of late.
And Garrett Richards took the bump on three days rest. After combining to go just 3.0 innings over his previous two starts, the 32-year-old was brilliant over 3.2 innings, fanning four batters and retiring eight straight at one point. It was surprising to see manager Jayce Tingler come get him before the fourth inning was over, much to the displeasure of Richards. However, there had to be some kind of pitch count, which appeared to be around the 50-pitch mark, given the quick turnaround on Richards' last start.
In all, Richards threw 30-of-47 pitches for strikes, and he looked significantly better than his two previous starts. His slider had a phenomenal bite to it, and his fastball exhibited that high-running action, getting Trevor Story to awkwardly strikeout before being pulled. It took a few innings for the Padres offense to get it going off Rockies starter German Marquez, who ended up pitching 6.0 innings while fanning seven batters.
Some of the new faces made an immediate impact in the contest, primarily Nola and Trevor Rosenthal. The former Mariners catcher had a seeing-eye single up the middle just out of the grasp of a diving Story, and he followed that with an excellent at-bat that ultimately ended with him taking a base on balls.
With a 6-0 lead heading into the ninth inning, Rosenthal made his debut for the Padres, throwing 10-of-12 pitches for strikes while fanning two batters in an efficient inning of work. Drew Pomeranz tossed the eighth inning, and he looked like himself, striking out three batters.
And perhaps the biggest contribution from a pitching standpoint came from 21-year-old Adrian Morejon, who provided 3.0 much-needed inning following Richards' abbreviated start. Morejon lasted just 1.2 innings in his last start against Houston, yielding three runs before landing on the injured list.
The Padres are off on Tuesday, which comes at a great time for everyone to collectively take a breath after a frantic trade deadline, but then they'll stay on the road for a two-game series against the Angels and a three-game series against the A's before returning home for a critical homestand.