Padres: Ryan Weathers 'fan-girling' facing Tatis and Machado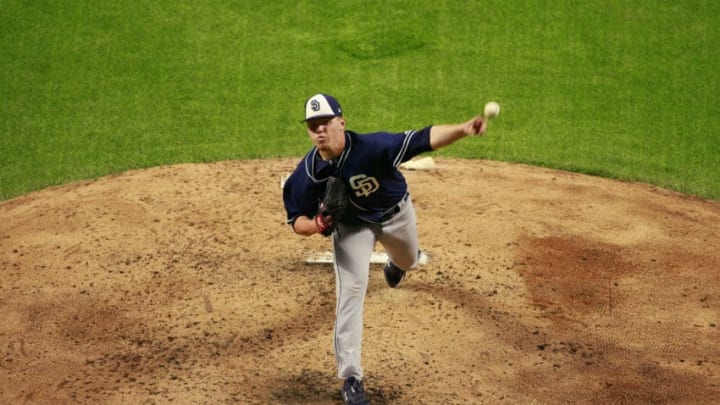 (Photo by Mauricio Salas/Jam Media/Getty Images) /
Ryan Weathers' velocity has significantly increased from the end of last season. Can he help the San Diego Padres this season?
The stigma that comes with being taken in the first round of the 2018 MLB Draft comes with high expectations. However, Ryan Weathers didn't look as sharp last year with Single-A Fort Wayne. The 20-year-old southpaw made 22 starts and spun a 3.84 ERA but allowed a .275 average against.
Now part of the Padres 60-man player pool, Weathers reported to summer camp looking slimmer, and his velocity was clocked in the high 90s, which was a substantial increase from where he was at the end of 2019.
"He looked like he belonged," Tingler said, via Baseball America. "He was on the attack. The stuff was really good and he didn't look intimidated (or) fazed by being under the lights facing a big league lineup. He was very impressive."
A major contributor why batters were squaring Weathers up last year was likely due to arm fatigue. He jumped off to a promising start in April and May, posting a 1.82 and 1.59 ERA, respectively, but then spun a 6.32 ERA in five June starts. The rest of the year wasn't much better, as his fastball reportedly topped out in the high 80s.
We'll hopefully have a better sense of what improvements Weathers has made when the Padres live-stream their two intrasquad games on Wednesday and Thursday, via the team's website.
But he was reportedly 'fan-girling' facing both Fernando Tatis Jr. and Manny Machado.
"Then Manny Machado steps in the box," Weathers said, via MLB.com. "And I'm like, 'Oh my gosh, I'm pitching to Manny Machado, what am I doing?' I had to lock it back in and be like, all right, you've actually got to pitch now."
As for what the Padres' ninth-best prospect's role looks like in a 60-game schedule, he'll have a difficult time being inserted into the rotation, given how crowded it is. Of course, injuries and COVID cases could alter that, but let's hope it doesn't come to that.
Instead, there could be some opportunities in the bullpen for Weathers to get his feet wet, for lack of a better term. The Padres will be without Jose Castillo for at least six weeks and Trey Wingenter for an unknown period of time.
I don't expect Weathers to be utilized a lot this season, but the experience at the big-league level is better than not playing at all this year. The leash will likely be lengthed just long enough for Weathers to pitch an inning here or there until he proves that he can toss two or three in relief.