Padres Draft: Team adds handful of UDFAs this weekend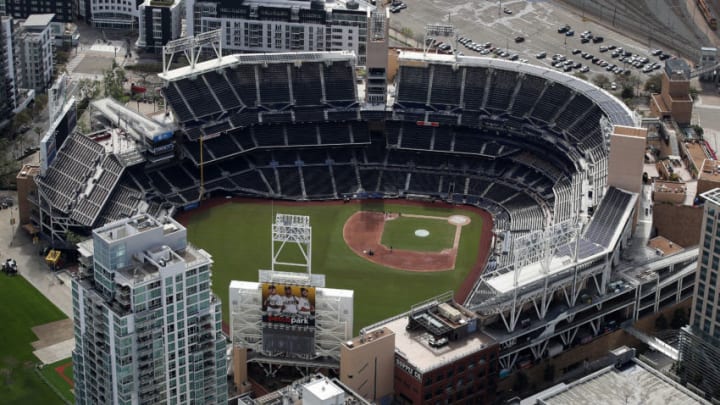 SAN DIEGO, CA - MARCH 20: An aerial view of Petco Park stadium on March 20, 2020 in San Diego, California. Major League Baseball has postponed the beginning of the 2020 season due to the coronavirus (COVID-19) pandemic. Photo by Sean M. Haffey/Getty Images) /
After taking six players in the MLB Draft last week, the Padres added five more as undrafted free agent signings. Which three could surprise?
The MLB Draft is over, and the Padres 2020 class looks promising on paper. However, we won't have a true sense of how well the front office did until at least five years from now. And as part of MLB's decision to shorten this year's draft from 40 rounds to just five, teams also had the opportunity to sign as many undrafted free agents with a maximum signing bonus of $20,000.
It's not much, and the early reports suggest that several teams are not partaking in the post-draft festivities. But the Padres, as one of the smaller markets in baseball, have generally been very good about finding talent wherever they can. As of Sunday afternoon, the team reportedly has already signed five players.
Let's get to know each one and identify several that could end up being key contributors one day.
Danny Denz, LHP (Memphis)
Denz would have been drafted in a normal year. Having played 3+ years at Memphis, he was expected to transition full-time in the Tigers' rotation this year. He made four starts before the shutdown, fanning 26 over 18.0 innings while posting a 1.50 ERA and limiting the opposition to a .113 average. Featuring a three-pitch mix, Denz will need to improve his command, allowing a 6.5 BB/9 during his time at Memphis.
Carter Loewen, RHP (Hawaii)
The Vancouver native is likely a longshot to stick with the Padres, given that he pitched a total of 18.2 innings in 2+ years at Hawaii. Last season, he made ten appearances, all out of the bullpen, and struck out five in 11.1 innings. He held batters to a .175 average but also allowed six walks. Loewen's only save this year came against number two-ranked Vanderbilt.
Sam Ruta, SS (Pennsbury High School)
While he's listed as a shortstop, Ruta is likely to play at shortstop wherever he ends up. He had a verbal commitment to West Point, and here's what Perfect Game had to say about him:
"Lefthanded hitter, begins with a medium hand set and shifts well into contact with lower half. Fluid swing and creates solid bat speed through the zone with loose hands. Easy carry off the barrel and projects very well at physical maturation, gets extended out front with leverage at point of contact and pop to his pull side. High level offensive tools."
Zack Mathis, 3B (LSU)
Mathis transferred to LSU after spending his first two collegiate seasons at a junior college in Stockton, California. He started at third base for the Tigers, but he can play all over the infield. Before the shutdown, Mathis posted a .262/.368/.361 average with a double, triple, home run, and nine RBI. At just 5-foot-8, Mathis displayed a solid plate discipline with a 10-to-15 walk-to-strikeout ratio.
Michael Green, OF (Clemson)
Similar to Mathis, Green transferred in from a junior college. It's a shame that he was injured for a big chunk last year because he could have made a real case to be drafted, even in an abbreviated year.
In 28 games, Green posted a .307/.412/.475 slash line with eight doubles, three home runs, and 14 RBI to go along with a 1:1 K/BB ratio. The caveat here is that Green was dismissed from the Clemson baseball program in January for violating team rules.