San Diego Padres: Latest 3 Division Plan for MLB Restart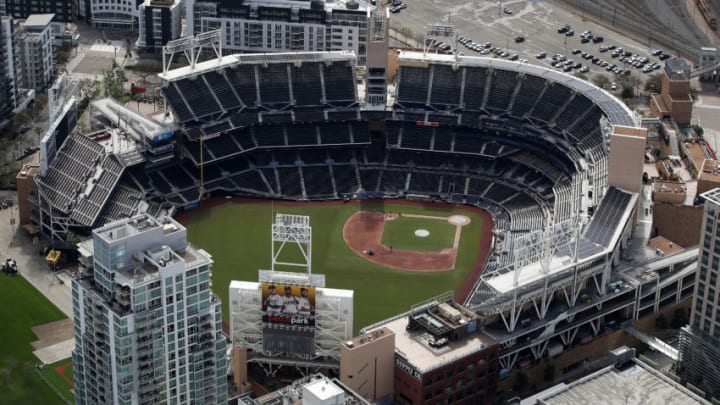 SAN DIEGO, CA - MARCH 20: An aerial view of Petco Park stadium on March 20, 2020 in San Diego, California. Major League Baseball has postponed the beginning of the 2020 season due to the coronavirus (COVID-19) pandemic. Photo by Sean M. Haffey/Getty Images) /
It seems like we're hearing about a new plan for a possible MLB restart, and this one involves the San Diego Padres joining a slightly new division.
As Ryan wrote the other day, there is a lot of optimism picking up that we'll get San Diego Padres baseball at some point this year.
And the latest report from Bob Nightengale of USA Today details what that could look like and when.
Basically, Nightengale says the season could start as early as late-June and likely no later than the beginning of July.
My hopes all along have been that the season will start at the beginning of June, so it's a bit disappointing to hear we could have to wait another month.
But I'm also hoping that means there will be a shortened spring training in June, which means we will at least have some form of baseball going on in that month.
With this new plan that Nightengale is reporting about, the league would be split up into three leagues essentially (there won't be an American or National League).
For the Padres, they would obviously be in the West with the Dodgers, Giants, Diamondbacks, and Rockies from their original division. Along with the Angels, Athletics, Rangers, Astros and Mariners from the AL West.
They're talking about expanding the postseason and adding more teams, but if I'm being realistic, the chances of the Padres surviving that division are not great.
The Dodgers and Astros are two of the best teams in all of baseball, while the A's have been a playoff team for years now and the Angels should be really good.
If I had to predict right now, I'd optimistically have the Padres as the fifth best team in that division behind the four teams I just mentioned. And you could make a case to put the Diamondbacks, Rockies, or Rangers ahead of them.
The new wrinkle in this plan is that teams would get to play in their home ballparks (with no fans, obviously) and wouldn't be quarantined so they could still be with their families.
Again, the league is coming up with plans all of the time and I'm sure this is just one of many. It's not the worst plan I've heard yet and I like the idea of teams playing in their home parks.
But I still think we're a couple of weeks away from anything being formally announced. Let us know your thoughts on this latest plan in the comments below.