Why San Diego Padres will be active during 2020 trade deadline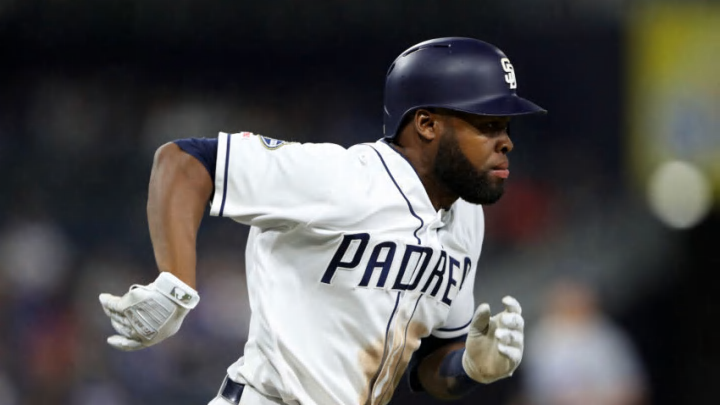 SAN DIEGO, CALIFORNIA - AUGUST 27: Manuel Margot #7 of the San Diego Padres runs to first base during a game against the Los Angeles Dodgers at PETCO Park on August 27, 2019 in San Diego, California. (Photo by Sean M. Haffey/Getty Images) /
There are certainly more moves to come this offseason from A.J. Preller and the San Diego Padres, but the team might be even more active during the season.
While we fully expect A.J. Preller to make another big move or two this offseason, there is a chance we go into the 2020 season with the San Diego Padres roster as is currently constructed.
And the more I think about it, the more I'm OK if that happens.
Certainly, I'd love to get another outfielder to replace Wil Myers or an upgrade in center field. And I wouldn't mind getting a veteran starter to help out the young guys.
But at the same time, I think if we go into the season with the roster we have there is still a chance this team competes for a Wild Card spot.
Let's be honest, this roster is not close to contending for the NL West with the Los Angeles Dodgers. It's hard to envision the Padres going from 70 wins to 100 in one year.
However, I do fully expect this team to be much improved to start 2020 with a healthy Fernando Tatis Jr. and Tommy Pham atop the lineup. And the young pitchers like Chris Paddack and Dinelson Lamet are more seasoned now and should be firing on all cylinders.
That's why I believe that if we don't see any more moves the rest of this offseason — or even if we do see another move or two — the Padres will be very active during the season.
If this team is around .500 entering July and only a couple of games out of a Wild Card spot, and I fully expect that to be the case, Preller should be very aggressive in looking for ways to upgrade the team.
At that point, I think we see Preller make a trade for a young, controllable starting pitcher — maybe like a Matthew Boyd.
And depending on how the outfielder and second base shape up in the first half of the season, I think he could try to make an upgrade there as well.
It might even be easier to move Myers' contract halfway through the season as teams trading for him wouldn't have to take on quite as much.
Also, there is a chance MacKenzie Gore and/or Luis Patino are up at that point, which makes some of their other starters more expendable in trades.
So I believe there is a chance we don't see much more from Preller this offsesaon. But if things play out the way I hope/expect during the first half of the season, then I expect the Padres to one of the busier teams at the July trade deadline as San Diego tries to make the playoffs for the first time in 14 years.