San Diego Padres interest in pitcher Kwang-Hyun Kim is quite telling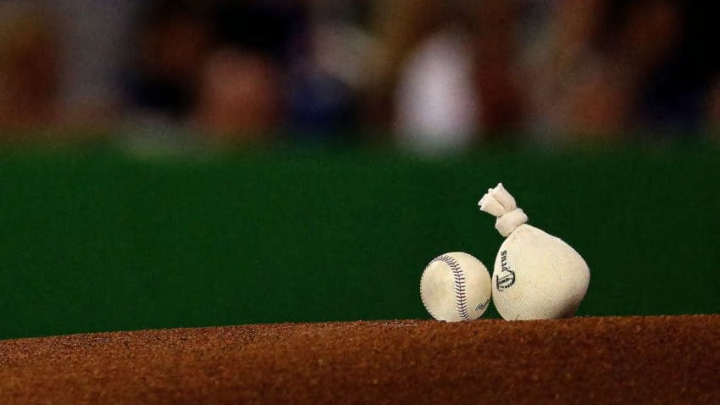 MIAMI, FL - JUNE 18: A baseball and rosin bag sit on the mound during a game between the Miami Marlins and the Colorado Rockies at Marlins Park on June 18, 2016 in Miami, Florida. (Photo by Mike Ehrmann/Getty Images) /
It's becoming clearer that the San Diego Padres won't be able to contend with other teams on top free agent pitchers, which is why they have shifted gears.
Coming into the offseason there was a lot of buzz about the San Diego Padres being a possible landing spot for free agent pitcher Stephen Strasburg.
And even if Strasburg wasn't an option, there was the thought they'd be players in the next tier with Zack Wheeler and Madison Bumgarner.
As I wrote earlier Thursday, those dreams have all but vanquished.
Now with the news that the Padres are interested in Korean left-handed pitcher Kwang-Hyun Kim, it's even more clear that San Diego has moved on.
The bidding for Kim is set to start on Friday, and Kevin Acee of the San Diego Union-Tribune reports that the Padres will be in the mix to sign him.
As Acee also notes in his article, the Padres won the bidding rights to Kim back in 2014 but were unable to come to an agreement.
The 31-year-old lefty has spent 12 seasons in the Korean Baseball Organization (KBO) and has a career ERA of 3.72 in 1,673.2 innings with a K/9 of 7.8 and a WHIP of 1.33.
This past season he went 17-6 with a 2.51 ERA in 190.1 innings with 180 strikeouts and a WHIP of 1.24.
At best, it sounds like Kim would be a middle of the rotation starter for the Padres.
As I also noted in my article Thursday morning, I really don't see the need for San Diego to sign a backend starter. I'd much rather see them give those innings to a young guy and let them develop.
But maybe A.J. Preller feels like they can get him rather inexpensively and he can eat up some innings.
Either way, this confirms our suspicions that the Padres are likely not going to get that top of the rotation starter this offseason.