San Diego Padres: A guess at the lineup of the Fort Wayne TinCaps in 2020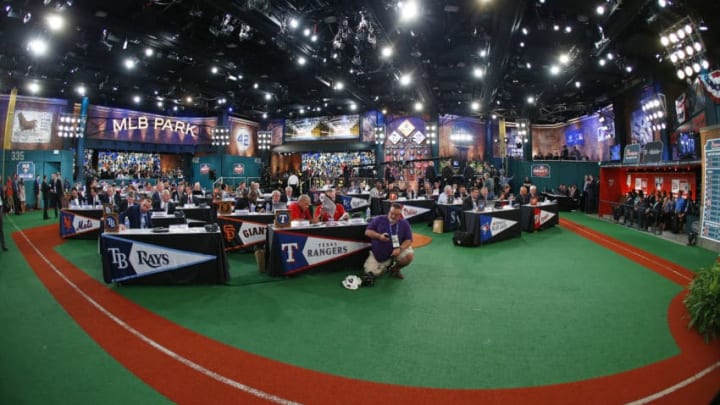 SECAUCUS, NJ - JUNE 5: Representatives from all 30 Major League Baseball teams fill Studio 42 during the MLB First-Year Player Draft at the MLB Network Studio on June 5, 2014 in Secacucus, New Jersey. (Photo by Rich Schultz/Getty Images) /
CINCINNATI, OH – MARCH 30: Padres Homer Bailey #34 of the Cincinnati Reds delivers the first pitch of the Opening Day game to Adam Eaton #2 of the Washington Nationals at Great American Ball Park on March 30, 2018 in Cincinnati, Ohio. (Photo by Joe Robbins/Getty Images) /
What was originally a routine end of season last look at the San Diego Padres and its minor league affiliates has turned into much more.
While doing some end-of-season research through the San Diego Padres 40-man roster and minor league affiliates it occurred to me how much depth the organization has. Even after the recent moves to get down to the mandated 40-man limit there are good players up and down the farm system. So much so it got me to thinking of next years roster.
If the season were to start today what would the depth chart look like? With that thought, a what will now be a 26-man roster was laid out and projected. And then so was one for the El Paso Chihuahuas, Amarillo Sod Poodles, Lake Elsinore Storm and Fort Wayne TinCaps.
A fun exercise to say the least. Combing through every inch of the farm to come up with a 26-man roster for all four of the full-time affiliates and the Padres. During that in-depth analysis of those teams, two things stood out. The quality and quantity of the players on the seminary.
Even after the many graduations to the big league roster this past season, there's still elite talent at all levels of the system. So instead of just concentrating on a depth chart for the big league club if it were opening day, we'll do them all.
This is only for fun and to show that the Friar depth and talent are still really good.
But it also gives you names to be familiarized with during the just now starting Hot Stove season. After all some of these players could be used during expected trades to upgrade the current rosters of these teams.
In no way will any of these rosters look the same as when we project them in the spring.
However if any of the teams we will cover during this 5-team exercise will look the closest to what they do now my money is on the Fort Wayne TinCaps.
SAN DIEGO, CA – JUNE 8: San Diego Padres draft picks, from left, Matt Brash, Logan Driscoll, Joshua Mears and C.J Abrams, stand at home plate before a baseball game between the San Diego Padres and the Washington Nationals at Petco Park June 8, 2019 in San Diego, California. (Photo by Denis Poroy/Getty Images) /
Fort Wayne TinCaps 
2019 record: 62-76, 6th Place, Midwest League Eastern
Starting Lineup and Batting Order:
1) Ripken Reyes -SS
2) Hudson Head-CF
3) Logan Driscoll-C
4) Josh Mears-DH
5) Nick Gatewood-1B
6) Justin Lopez-3B
7) Dwanya Williams-Sutton-RF
8) Ethan Skender-2B
9) Jawuan Harris-LF
This would not be a bad starting lineup at all. It would have a mixture of a few players repeating the level mixed in with some of this past years draft picks. One thing missing from last years team it seemed was consistency, That should not be a problem with this projected lineup. It has speed, power and contact ability. On paper this is a better lineup with depth throughout.
BALTIMORE, MARYLAND – JUNE 25: Manny Machado #13 of the San Diego Padres looks on from the dugout against the Baltimore Orioles during the second inning at Oriole Park at Camden Yards on June 25, 2019 in Baltimore, Maryland. (Photo by Patrick Smith/Getty Images) /
Bench:
IF-Jordy Barley
Utility-Lee Solomon
OF-Agustin Ruiz
More from Padres Prospects
If this were the bench for this team it would be much deeper and have more flexibility than last years. Although injuries and roster fluidity also contributed to the inconsistencies too.
MIAMI, FL – JULY 16: Pitching Coach Darren Balsley #36 of the San Diego Padres comes out to talk to pitcher Logan Allen #54 during the second inning against the Miami Marlins at Marlins Park on July 16, 2019 in Miami, Florida. (Photo by Eric Espada/Getty Images) /
Starting Rotation:
1) Omar Cruz-LH
2) Carlos Guarate-RH
3) Ethan Elliott-LH
4) Jason Blanchard-LH
5) Nick Thwaits-RH
6) Connor Lehmann-RH
All of the minor league affiliates will have six-man rotations, considering that is how most minor league teams deploy their pitching.
PEORIA, ARIZONA – FEBRUARY 21: Pitcher Kirby Yates #39 of the San Diego Padres poses for a portrait during photo day at Peoria Stadium on February 21, 2019 in Peoria, Arizona. (Photo by Christian Petersen/Getty Images) /
Bullpen:
Swing-Adrian Martinez-RH
MR-Jose Quezada-RH
MR-Felix Minjarez-RH
MR-Austin Smith-RH
SU-Wen-Hua Sung-RH
SU-Dylan Coleman-RH
CL-Matt Brash-RH
A seven-man bullpen which includes one swing-man, three middle relievers, two set-up men and one closer.
That is how your Fort Wayne TinCaps could line up come opening day 2020.
This is just the first of five articles taking a guess at the 26-man rosters of all four full-time affiliates and the San Diego Padres too.
I'm sure that these will change soon with the Hot Stove season just getting started.
For complete coverage of the San Diego Padres 2019-20, off-season, be sure to visit Friars on Base all season long.