San Diego Padres: Three Exciting Things About The Fort Wayne TinCaps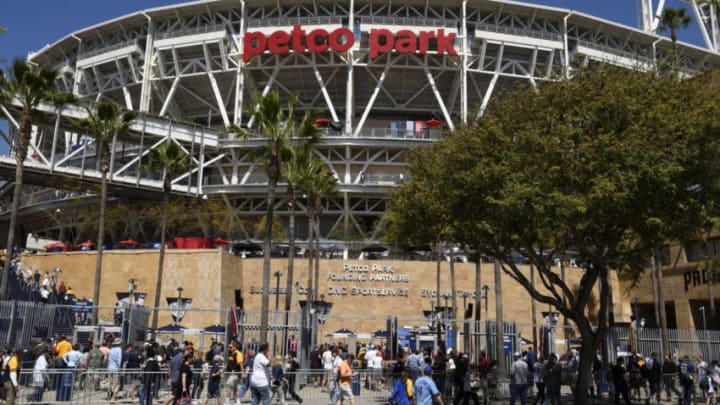 SAN DIEGO, CA - MARCH 29: San Diego Padres line up for Opening Day between the Milwaukee Brewers and the San Diego Padres at PETCO Park on March 29, 2018 in San Diego, California. (Photo by Denis Poroy/Getty Images) /
Just over a month into the MiLB season, let's take a look at three of the most exciting things happening down in Single-A with the Fort Wayne TinCaps.
The Fort Wayne TinCaps, Single-A affiliate of the San Diego Padres, have one of the more exhilarating rosters in minor league baseball. With three players who were born in the year 2000, it took a few weeks for this team to settle in and adjust, however, these teenagers are starting to catch fire and show no signs of slowing down.
As of May 9th, the TinCaps sit at 14-18 on the year, six and a half games out of first place in the Eastern Division of the Midwest League. However, ignore the record, let's focus on three of the most exciting prospect performances, thus far.
Jeisson Rosario is backflipping his way into the hearts of San Diego Padres fans.
Leading the way for the TinCaps' offense has been outfield prospect, Jeisson Rosario. Rosario leads the team with a .303 batting average (as of May 9th) and has posted a .371 on-base percentage in 89 at-bats. While he has just one double, one triple, and one home run, Rosario has recorded eight stolen bases already, just as many swipes as he had last season and he's only played in half of the number of games.
He's only 18-years-old, however, Rosario shows impeccable patience at the plate. In 26 games, Rosario has worked 25 walks while striking out 24 times. He showed the same patience in the Arizona League last season, posting a 36/33 K/BB ratio. Despite facing better quality pitchers (compared to the Arizona League) and being two-three years younger than the average Midwest League player, Rosario has continued to flash his plate awareness.
His ground ball and fly ball rates are down while his line-drive rate is up 13% from last season, leading to a BABIP of nearly .400. His defense has been spectacular as well. If Rosario can start hitting left-handed pitchers, the Padres have a very dangerous prospect in the making.
Esteury Ruiz is flashing some serious pop.
He may be only 19-year-old but Esteury Ruiz isn't letting that phase him in Fort Wayne. The infielder hit .313 in the Dominican Summer League and .350 last season in the Arizona League. Now in full-season ball, Ruiz is slashing .262/.325/.458/.783 with seven stolen bases.
He's already recorded three doubles, three triples, and four home runs. These haven't been cheap shots, either. Take a look at some of his mammoth power strokes from the first month of the season.
You wouldn't expect this sort of power from a six-foot, 150-pound middle infielder but Fangraphs grades his power at a 60 and it's clear why. He's still a long way away from the major leagues, however, Ruiz is tapping into his power and increasing his walk rate this season which are both good signs for his progression.
MacKenzie Gore is back and has the attention of every San Diego Padres fan!
Last year's first-round pick of the Padres, MacKenzie Gore, has fans all abuzz after the North Carolina high-school prospect put up video game-like numbers on the mound in prep ball.
Now 19, Gore was promoted to full-season ball after striking out 34 hitters in 21 innings last season in the Arizona League.
Gore hit the disabled list for Fort Wayne after making his first start of the season, a three-inning affair in which he gave up five hits, two earned runs, and one walk to go with four strikeouts. Having healed from the blisters that plagued him in spring, Gore returned to the mound on Tuesday afternoon against the Quad City River Bandits.
He lasted two innings, giving up four hits and four earned runs while striking out three.
It wasn't an ideal outing, however, the top pitching prospect of the Padres' just needs to settle into his routine. Naturally, every headline on Wednesday morning was some version of "Gore gets hid hard in return." He's going to get hit hard, he's human, and he's 19-years-old playing in full-season ball.
Next: Padres Waste A Gem From Clayton Richard
As I mentioned earlier, once these teenagers find their groove and settle into the Midwest League, watch out. Whether it's power hitting, blazing speed, high leg kicks, or near pinpoint accuracy from pitchers, the Fort Wayne TinCaps have it all.
Be sure to visit their website, which you can find here, and follow them on social media, @TinCaps.