San Diego Padres: Perdomo Beats Minor Leaguers, Earns Job?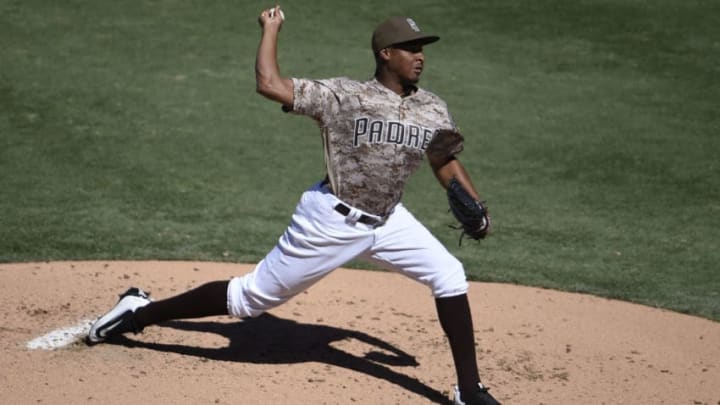 SAN DIEGO, CA - SEPTEMBER 24: Luis Perdomo /
The San Diego Padres defeated the Chicago White Sox on Saturday by a score of 4-3. Luis Perdomo needed an outstanding start and he got it, against backups and minor leaguers.
Luis Perdomo made his final spring training start on Saturday, needing to show up and prove he deserves a rotation spot for the San Diego Padres. Sure, the box score looked good, however, should we be convinced?
Perdomo was stretched out to five innings, striking out four and allowing five hits, two walks, and just one earned run. The earned run, a no-doubt bomb hit by a guy with a jersey number of 89.
Instant reaction from this article, put out by San Diego Union-Tribune beat writer Kevin Acee, seemingly crowned Perdomo has a rotation arm. Acee uses an interesting word in his first sentence, saying that Perdomo "survived" his outing against the White Sox. "Surviving" a late spring training start against a team of backups and soon-to-be minor leaguers doesn't exactly make fans feel confident.
Here is that lineup that Perdomo faced.
Over 15 spring innings, Perdomo has surrendered 10 earned runs, 17 hits, three earned runs, and eight walks. His final two outings have trended up, however, yesterday's outing didn't tell us a whole lot. Last week, there were rumors of Perdomo being sent to the minors to work on his development. That plan appears to be nixed at this point.
Like it or not, Luis Perdomo has all but officially locked up a spot in the San Diego Padres' rotation.
San Diego Padres offensive highlights.
Wil Myers contributed two of the six Padres' hits on Saturday, improving his spring average to .327. Myers has had a quiet, yet successful, spring training as attention spreads to other players in camp.
Hudson Potts, the Padres' 17th ranked prospect, jacked a home run off the batters eye. Potts hit 20 home runs for Fort Wayne last season and will look to improve on his high strikeout rate and low on-base percentage in Lake Elsinore in 2018.
I'll leave you with Eric Hosmer's opposite-field home run. He's been heating up at the right time for the Padres with the regular season beginning in just one week!
Next: The Real Ace Of The Padres Pitching Staff
The Padres return to the field at 1 pm PT today against the Cleveland Indians. Don't carve out time in your day to watch, it's not on TV or MLB.TV.