San Diego Padres: RHP Cal Quantrill Tapped As Rookie To Watch In Spring Training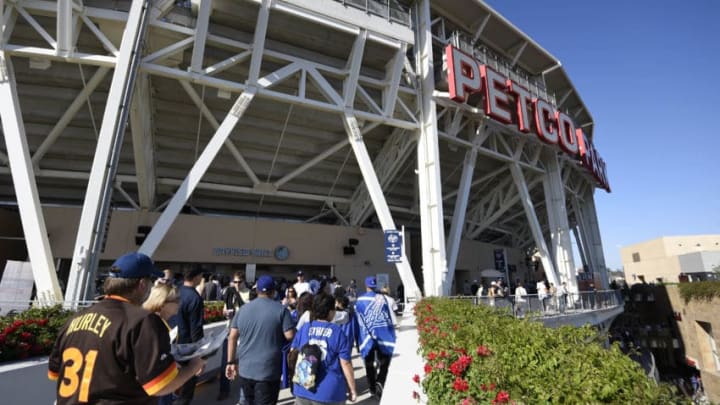 SAN DIEGO, CA - MARCH 30: Fans head for their seats on Opening Night before a baseball game between the Los Angeles Dodgers and the San Diego Padres at Petco Park on March 30, 2014 in San Diego, California. (Photo by Denis Poroy/Getty Images) /
RHP Cal Quantrill has been named by The Athletic's Jim Bowden as the San Diego Padres' prospect to watch in spring training.
Last week, Jim Bowden of The Athletic (subscription required) released his list of National League rookies to watch during this year's spring training. For the San Diego Padres, he tapped RHP Cal Quantrill as the one to keep an eye on.
Quantrill joins Eric Lauer and Joey Lucchesi as part of the first wave of highly touted pitching prospects that will exhibit how their repertoire plays against major league talent.
Here's what Bowden had to say about Quantrill,
""Quantrill was a former No. 1 draft pick from Stanford in the June 2016 free-agent draft. He has a mid-nineties fastball and one of the best change-ups in minor league baseball. His slider is inconsistent, but shows signs of also being a plus pitch, and he's developing a slow curveball. Quantrill can fill up the strike zone with his repertoire, and his command will separate him. He should start the year in AAA, but if his breaking pitches improve, he'll find himself at Petco Park sooner rather than later.""
Quantrill is still building up his stamina after Tommy John surgery in 2015. Despite a light workload, the Padres have been aggressive with his development.
The 2016 first-round pick of San Diego has appeared at five minor league levels, all but AAA, over the last year and a half. Quantrill wasn't terrible last season in High-A and Double-A ball, but he wasn't electric by any means.
He combined to go 7-10 with a 3.80 ERA in 22 starts for Lake Elsinore and San Antonio. Through 116 innings, Quantrill allowed opposing batters to hit just .281 while posting a 1.47 WHIP and a 110/40 K/BB ratio.
Quantrill could be in the San Diego Padres' rotation by the end of this season.
Quantrill has a very smooth delivery that appears to involve minimal effort. He possesses a mid-90s fastball with a plus-changeup and an above-average slider and curveball. FanRag Sports believes that Quantrill's changeup is the best among all pitching prospects in baseball. The slider could develop into a major league out pitch with a little more refinement. When Quantrill is on with his slider, it has a beautiful break along multiple planes that proves extremely difficult to hit for righties.
He won't be an ace of a staff unless the slider and curveball can develop into an out pitch; however, Quantrill does project as a solid 3-4 starter in a major league rotation.
There may not be many opportunities to pitch in spring training, but keep an eye on a few things when Quantrill does get time on the mound. Can he maintain his velocity? Is he able to limit the number of hits that  right-handed batters produce? How does his command hold? The answers to these questions will determine how long until Quantrill gets the official call to Petco Park.
Barring a phenomenal spring performance, Quantrill will begin the year in AAA El Paso.
Stay tuned to Friars on Base for continued updates on Quantrill's spring performance and beyond.
Next: With So Many Lottery Tickets, The Padres Are Sure To Hit On One