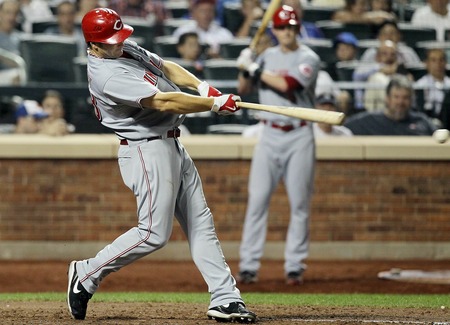 Hall of Fame writer Hal McCoy suggested that the Padres would be interested in trading our left fielder Luddy to the Reds straight up for Chris Heisey yesterday.
We are 7.5 games out of first place and Ryan Ludwick has been a huge contributor to our anemic offense. He leads our team with 8 home runs and 37 RBI and he is getting more and more comfortable playing on the team. Hopefully the arrival of Anthony Rizzo will give the team some added pop to the lineup and take some of the load off of the shoulders of Luddy.
Chris Heisey has been a very productive player for the Reds though. Some of his numbers are inflated playing in the bandbox at Cincinnati, but his batting average would lead the club and his 20 RBI are just behind Chase Headley's 21 for 3rd on the team. Heisey only has had 96 at bats this year in comparison to Headley's 204. He plays solid defense and could be the leadoff guy that we have been looking for.
So what would you do? The team has been playing much better of late and moving a bat from the middle of the order could halt the momentum that we have been building. Since we still have a chance in the division and there is plenty of baseball to play, we should just wait on this trade and revisit it later in the season IF we are no longer in contention. This division can be won and Luddy has turned into the leader of the offense.
Tags: Chris Heisy Cincinnati Reds Ryan Ludwick San Diego Padres