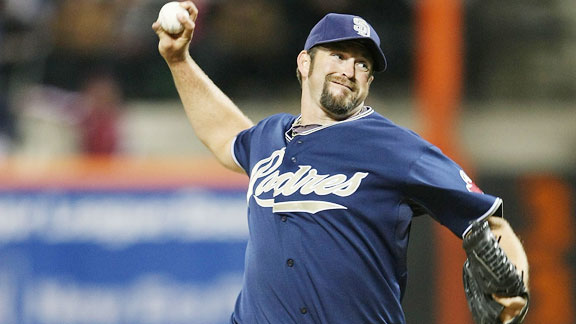 Heath Bell took some time off from his day in Arizona to hold a quick question and answer with his fans on twitter.
Favorite ballpark food: Philly Cheesesteaks
Favorite team to beat: All of them
Hardest out in baseball:
Albert Pujols
Favorite place to eat while in AZ for spring training: Arrowhead Grill
What athlete did you look up to when you were younger: Nolan Ryan and Roger Clemens
Whats your pregame playlist like, whats gets you pumped: Linkin Park and Kutless
Favorite taco shop in SD: Taco Bell
Any tips for a pitcher in his freshman year of high school: Keep the ball down
What sports you played growing up besides baseball: I played soccer, football and dodgeball
Who you got in NCAA tourney: San Diego State!!
What's your favorite hockey team to use on NHL 11: Phoenix Coyotes
What do you think of Brian Wilson: I love the Beach Boys
What do you think about the starting lineup, enough talent to score enough runs to put together another winning season? Absolutely
Do u go to the rock: no… Horizon
Who did you look up to growing up: My dad
What's it like striking out the last batter of a game: Like drinking a glass of #TigerBlook … #winning
Best all around athlete on this seasons team:
Cedric Hunter
What team(s) did u root for growing up: Padres and Angles
If you could put together your own baseball team with anyone you want, past or present, what is your line-up: SS – Rey Ordonez, RF – Tony Gwynn, 3B – David Wright, LF – Barry Bonds, CF – Mickey Mantle, C – Bruce Bochy, 1B – Mike Piazza, 2B – Robbie Alomar, P – Babe Ruth, Lefty Specialist – Royce Ring, Closer – Rod Beck
Hows Mat Latos looking: He's right where he needs to be…he's a stud
If you werent a baseball player what would your career be: A WWE wrestler named Bell-Y Flop
Do you have a saves goal this year: Playoffs—thats my goal
You still using your Wii or on the Kinect: Wii – Dance party 2 with the kids
Tell me your thoughts on the Beard: Its fluffy and soft and natural
If you got into a brawl with Brian Wilson, who would win: His Beard
Which hitter do you hate facing the most?
David Wright
Your pick for the best fish tacos in SD: Brigatine – Shelter Island
I'm visiting SD tomorrow, must try restaurant: Rocky's on Ingraham in Mission Beach
How old were you when you started playing baseball: 5
Do you like the new uniforms for this year, do players even care what the uni's look like: We care and I love the camos
Who do you look up to in the clubhouse: Bud Black
What's your favorite burger place in SD: Five Guys

Quick reaction from the responses from Heath: First off, what an awesome guy to take time to answer some of his fans!! Someone really needs to show him a good taco shop in town, not sure why Taco Bell is at the top of his list! I LOVE that when the first person asked about Brian Wilson, he responded with something about the Beach Boys and didn't think twice about the San Francisco closer. Last thought, someone needs to make a Bell-y Flop shirt for our WWE superstar Heath Bell!!
Tags: Heath Bell San Diego Padres